A Taste of Malaysian Food
by: Lizzy Briskin
I spent 2016 teaching English in a rural town in central Malaysia. I learned to drive on the left, chased monkeys off my lawn, sang camp songs with enthusiastic students, and of course, tasted as much of the local cuisine as possible. The foodscape is as diverse as the Malaysian population. Malaysian cuisine offers both regional specialties and dishes that showcase the country's varied ethnic makeup. Its flavors range from Indian and Chinese to Thai, Portuguese, and beyond.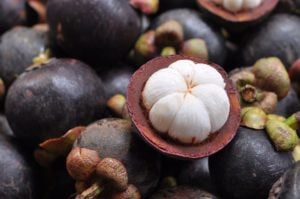 Malaysia's tropical weather lends itself to an array of indigenous produce The fruits and veggies range from delicious to odorous. The deep purple mangosteen, called the "queen of fruits," is a prize during its short growing season.
Its counterpart, durian, the "king of fruits," is a more polarizing figure, however. Durians are infamous for their spiky exterior and (to some) offputting smell that's been compared to an unfortunate blend of pineapple, garlic, and blue cheese. Fans of durian, however, go crazy for it and are willing to pay top dollar for the most desirable breeds and freshest cuts.
I lived in the kampung, or village, known as the durian capital of Malaysia. Durian season was a quiet time at school; many students left their books behind to help their parents with the harvest. The strength of a growing season would impact finances and prosperity for the rest of the year.
Malaysia's national dish is nasi lemak. It's white rice steamed with coconut milk and sweet fresh pandan leaves often topped with spicy sambal, cucumbers, peanuts, and eggs. The name translates to "fatty rice". Malaysians eat nasi lemak for breakfast and purchase it from vendors who wrap the rice and toppings into a neat pyramid with a banana leaf.
Standard lunches and dinners are noodles, rice, or flatbread. The most common bread in Malaysia is roti canai (pronounced chanai). It's a flatbread filled with anything from curry to bananas to sweet coconut jam, called kaya.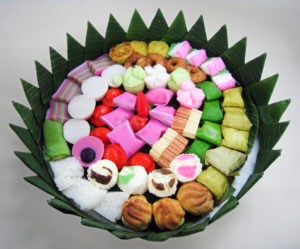 And any time of day, Malaysians can be found enjoying kuih. These are the various cakes, cookies, and other small confections that accompany afternoon tea. These treats come in dozens of shapes, sizes, and colors. Their ingredients range from bright pink rose water to soft green pandan. The most common kuih are flavored glutinous rice flour mixed with coconut, often steamed or fried like a pancake and rolled around a sweet filling. In Malaysia's tropical heat, a sugary kuih in the afternoon is almost mandatory to stay awake for evening classes.
Back in America, I continue seeking out the flavors of Malaysia. Near Boston, I recommend Night Market and Penang, both of which offer Malaysian and Thai fusion. In New York, Kopitaim is a hotspot for kuih, and Malaysian breakfasts. On the west coast, Azalina offers Malaysian meals and products at markets in the San Francisco bay area, and even teaches classes to help you master Malaysian cuisine!
Lizzy Briskin taught English at a secondary school in Pahang, Malaysia in 2016. She works at Purple Carrot now, where her love of food infuses all of her work!