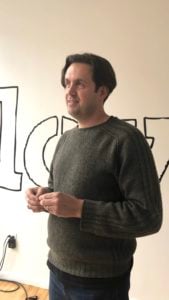 Clover Food Lab is a fast-casual vegetarian restaurant chain, but over ninety percent of its customers are meat eaters. Boston-based Clover is known for leveraging technology to ensure its delicious food reaches consumers at the peak of freshness, and for its mission: to address climate change by building a better food future.
We met with Clover's Founder and CEO, Ayr Muir, to talk all about the business and how he's creating a new food future.
Your restaurant's official name is Clover Food Lab.  What does it mean to you to be a "food lab"?
We backed into that name accidentally. We started testing our food at MIT, and our intention was to test the food, figure out the menu, and move on. But the name stuck. Now, it's more metaphorical. You are the lab, all the customers who eat with us. What we're trying to do is imagine a different, new food future and we need help from everybody to figure out what that is.
What do you mean when you say you want to figure out a different, new food future?  
We eat food that's not healthy for us. We eat food that's really awful for the planet. And, we don't eat in a way that supports local food systems. I think we have a responsibility to fix our ways, but also to be a better role model.
We're finding ways to eat food when it will taste really amazing (i.e. in alignment with the seasons). We're creating food that improves our health over time, rather than degrades it. We're creating a healthier world, and giving money back to regional food systems.
You have a robust and creative menu, but it's all vegetarian or vegan. How do you make that menu attractive to people who eat meat?
We help meat-lovers come to enjoy vegetables. 90% of our customers are not vegetarian, and that's great, that's what we're aiming for. The way we get there, first and foremost, is to get people to taste vegetables at their peak, when they taste best.
Some people say they hate tomatoes, but they're probably reacting to a really lousy off-season supermarket tomato. When they taste it, it's like "ugh," it tastes like cardboard, so they don't like it. Maybe that happens a few times, so they say "I hate tomatoes, please leave them off my plate."
Me? When I think of tomatoes, I don't think of those, I'm erasing those from my memory. I think of a tomato from my backyard garden from when I was a kid, I'd walk out in my bare feet, and it is warm, I hear the insects, grab the tomato—and the smell and the taste—that's one of my favorite memories. I think if some who hates tomatoes had the same sort of memories I have, they probably wouldn't say they hate tomatoes. We want to give people great experiences with vegetables.
What are the challenges you face serving fresh produce?
The problem with produce in our industry, especially in the Northeast, is that the growing seasons are highly variable. Sometimes they're very short, or the productivity varies year-to-year. It's hard to predict availability and create a consistent supply system. As a result, vegetables, fruits, and berries are left off of menus. If we find ways to use technology to bring those back onto menus, people are going to be able to come face-to-face with a carrot that's just mind-blowing instead of a carrot that's woody and slightly bitter.
How does Clover integrate tech into the decisions it makes?
We have a small development team in-house and we build our own tech solutions when we need to. In some cases, we're stitching together existing solutions or trying new things from companies that are just emerging, but for some of our core systems, we've had to build them ourselves.  
In particular, our point-of-sale (POS) system, which is the brain for all the sales of a restaurant, is a custom solution. We found that POS systems assume your menu is static and maybe you change a few things a couple of times a year. But we're changing our menu all the time. Eighty percent of our menu changes over the course of a month, which is really radical for the food industry.
We ended up building our own point-of-sale system. It was a big undertaking, but it does amazing things and we wouldn't have been able to do what we're doing without it. It helps us get really yummy produce in front of people and get dollars to local farmers.   
What's next for Clover?
Clover is the only restaurant internationally, that I know of, where's there's no meat on the menu and 90% of the customers aren't vegetarian. There are plant-based dining options but most of those are oriented towards people who've already committed to that kind of eating. So, we'd love for Clover to be huge, to be thousands of restaurants, but we want to be careful with our growth. We want to inspire others.
Is there anything else you'd like to tell us about Clover that we haven't asked you about?
I feel really excited about the future. I think embracing technology and doing things in new ways is going to allow us to turn from where we've been towards something a lot better.
Thanks, Ayr, for the inspirational words, and the Clover team for some delicious food! To learn more about Clover Food Lab or find a location near you, visit its website: https://www.cloverfoodlab.com.