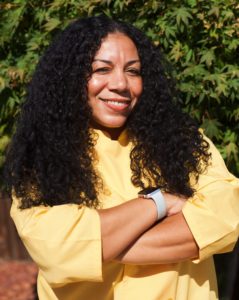 Chances are if you're trying to eat more plants, you've heard other people talk about going vegan. But have you ever heard of a restaurant going vegan? About one year ago Casa Borinqueña, a Peurto Rican eatery in the Bay Area of California, revamped their menu and decided to swap out meat and dairy for plant-based alternatives. The owner, Chef Lulu, is making Puerto Rican cuisine accessible to those who are striving to fill their plates with more plants, and we're here for it!
Get to know Lulu and Casa Borinqueña
As Lulu said, "Cooking has always been a passion of mine. After many years in the kitchen spent with my mom, and when raising my children, I decided I wanted to hone my craft. After attending culinary school I began to use the knowledge learned to help me connect more with my culture. I had an understanding of what it meant to be Puerto Rican, but I wanted to learn more about our cuisine. While I was in school, there was very little information about Puerto Rican food taught. I decided to delve deeper and immerse myself in all the spices and recipes. Casa Borinqueña was born out of love for my family, for my culture, and for an island I'm so deeply in love with. Although initially Casa Borinqueña was not a vegan business, I started shifting towards veganizing recipes because of my love and values for animals and the environment around me."
Lulu's Ropa Vieja Jackfruit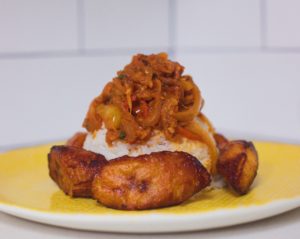 Get a taste of Lulu's cooking right from home! This delicious jackfruit is a great addition to any meal.
Ingredients: 
2 tbsp of olive oil 

1 jackfruit, shredded

1 medium onion, chopped 

1 half of a yellow pepper, chopped 

1 half of a red pepper,chopped 

4 garlic cloves, minced

1 tbsp paprika 

½ tsp salt

1 tsp cumin 

1 bunch cilantro, chopped 

½ cup sofrito

1 cup vegetable stock

½ cup tomato paste
Oil your pan and wait until it gets hot. Once hot, drop jackfruit into the pan and stir for about 5 minutes. Add onion and stir until translucent, then add peppers and garlic. Stir for 5 minutes. Add paprika, salt, cumin, cilantro, and sofrito. Stir for about 6 min and add vegetable stock and tomato paste. Stir for about 5 minutes, then cover, reduce heat to low, and cook for another 10 minutes.