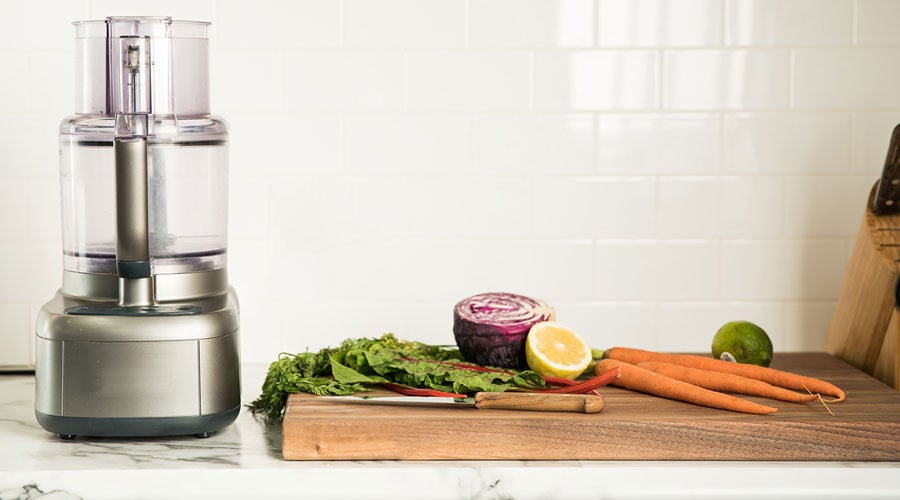 What to Make with Your Food Processor
By Joann Pan
Learning new techniques in the kitchen can make cooking a more enjoyable and relaxed experience. Cooking is, after all, a skill, that develops over time and is honed through practice. Knowing how to quickly make fresh pesto from scratch, or how to prepare homemade hummus, for instance, offers a definite advantage when learning how to cook at home so you don't default to ordering takeout. Easy-to-call-on skills can be the deterrent against eating out altogether.
The food processor is a kitchen gadget that makes meal prep and healthy cooking immensely easier, yet, is often overlooked and forgotten about among countertops full of blenders and toasters.  Here are some inspiring ways to get more use out of the versatile machine and make it a staple in your culinary arsenal. 
What to make with your food processor 
The magical food processor can do more than whip wholesome ingredients (like nuts, chickpeas) into beautiful paste to spread on a cracker or piece of toast.
Chop Veggies
The standard blade or, "shredding dice," can chop up carrots and celery (for a soup base), Brussel sprouts (for a warm salad), or cabbage (for slaw) in half the time it would take to chop.
On Sundays, slice and dice vegetables in the food processor that you can use in various dishes all week. We love slicing up peppers, onions, carrots and red cabbage to toss into salads, quinoa dishes or to use in veggie quesadillas. 
Make Store-Bought Staples at Home
Ashley Melillo, the writer and photographer of the vegan-focused Blissful Basil blog, uses her food processor every week (sometimes every day) to make homemade staples—including falafel dough, nut butters, sauces, dressings and homemade vegan cream cheese. We'd add skipping the store-bought packages of cauliflower rice and making your own. Using a food processor, pulse chunks of cauliflower into small granules. Store the cauliflower rice in a dry, airtight container until you're ready to cook. Throughout the week, cook cupfuls of cauliflower rice with butter or olive oil on the stovetop until tender—or pop into the microwave for a few minutes (which is optimal after an extra-long day).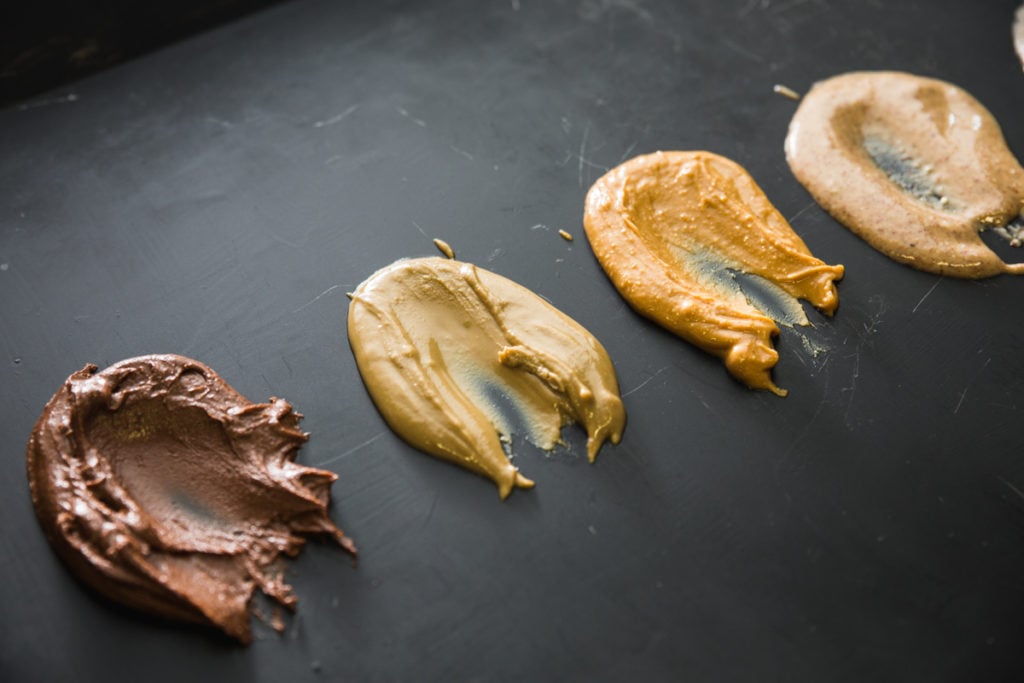 Prep Easy-to-Carry Energy Bars
Talia Koren, the blogger behind Workweek Lunch with plenty of meal-prep ideas, uses her mini food processor to blend up nutritious and delicious no-bake energy balls and homemade nut bars, made with dates, figs and nuts. You can use practically any of your favorite ingredients from your pantry in a date-based energy ball—including dried fruits, rolled oats, nuts, seeds. Just add a sticky substance to adjust the consistency when it's too dry (honey, coconut oil, nut butter or date syrup).

Whip Up Fruit-Based "Nice" Cream
"For vegans, this won't be very surprising at all, but I'm still amazed at the food processor's ability to transform frozen bananas into rich, creamy soft-serve style ice cream. It's my absolute favorite and a sweet treat I turn to on the regular," Melillo says. You can make simple vegan "nice" cream from all kinds of frozen fruit including mangos, strawberries, blueberries and avocado. Recipes usually call for coconut cream for creaminess. We can't stop dreaming about this Avocado Mint Chocolate Ice Cream.
Blitz Oats (or hemp seeds, or pumpkin seeds!) into Flour
Discovering this simple banana, blueberry and pecan pancake recipe from cookbook writer Anna Jones convinced us of the power of the food processor. The recipe calls for a little less than half a cup of oat flour. You simply drop the rolled oats into a food processor and buzz until it's the consistency of flour, like magic. Oat flour can be a great substitute for white or wheat flour in dessert recipes too.adding pumpkin or hemp seeds will kick up the protein power, too!
Make a Dense Cake Frosting
You'll get a thicker frosting with less air in the food processor than you would with a stand mixer, according to Cook's Illustrated. The frosting will be creamy, spreadable and thick enough for piping bags.

How to Invest in One That'll Last Forever 
We turned to a shopping expert to help you pick out a sturdy machine you can use over and over again without fail.
The most important things to consider when shopping for a food processor are the types of dishes you're hoping to prepare and how many people you typically feed, says Roberson Keffer, Macy's VP and Fashion Director for Home. For most of us, the machine's size will be deciding factor. Most standard processors come with additional blades to chop, slice, shred, dice and spiralize—so you don't have to worry about deciding on add-ons.
Food processors, sold at department stores, big-box chains and home-foods retailers, usually come in a variety of sizes from three-cup capacities (usually referred to as a mini food chopper) up to 13-cup capacities, Keffer says. If you're cooking for a big family or regularly prepping food for a book club, opt for the larger size. But keep in mind how much counter and storage space you might when considering your options. If you're someone who cooks for one or two people and never more—Keffer recommends something more compact. "For something small to make dips or guacamole (or even to use to chop onions, garlic – vs chopping by hand), a 3-cup would be the perfect item," he says. Two of the best-selling food processors at Macy's are the Cuisinart DLC-8SBCY Food Processor, 11 Cup Pro Custom and Cuisinart DLC-2A Food Processor, Mini Prep Plus—on opposite sides of the size spectrum.
As for how much to spend? "You don't need to spend a fortune, but a more well-known brand typically has expertise in this field," Keffer says. Investing in a high-quality machine up front can save you the money and hassle of replacing it later. "Looking back, I wish I would have invested in a quality food processor straight away and saved myself the money and hassle. Also, purchase a standard-size food processor, as opposed to a small one. It's worth it not to have to batch everything you're processing," Mellilo, of Blissful Basil, says.
She uses the Cuisinart's 14-Cup Food Processor in her kitchen—and it's also the trusty machine she used to create and test the 100+ recipes in her cookbook Blissful Basil: Over 100 Plant-Powered Recipes to Unearth Vibrancy, Health, and Happiness . "It's the only one I recommend. It has the power to process trickier ingredients and the endurance to whirl for the long-haul, which is a major perk if you're wanting to make homemade nut butters, coconut butter, etc." 
Another feature you want in a food processor is the ability to control speed and power (pulse/chop or high/low), Keffer says. When the machine is on pulse, the blades chop and mix. On a high and continuous speed, the machine blends and purées the contents. "Many recipes including sauces, dips, pie crust, etc. require you to really eyeball the consistency for it to come out right and having the manual pulse feature is key," Keffer says. For easier clean up, find a door processor with dishwater-safe parts.
The Best Way to Store a Food Processor
A tidying pro shares the most effective ways to store a food processor and attachments—so you're not cramming them into an impossible space that limits use.
Consider frequency of use when choosing the best place to store your food processor, says professional organizer Geralin Thomas, of Raleigh-based Metropolitan Organizing .If you're pulling it out every day to food prep, then keep it on your countertop, Thomas says. If counter space is sparse, store it in a easy-to-reach cabinet front-and-center. If you only pull out the food processor during Thanksgiving and the holiday season, store it in a low-traffic cabinet like the one on top of the fridge.
The different attachments that come with your food processor are useful—but you want to avoid digging for the right one every time. The best way to store loose attachment parts is to repurpose  a  container you already have, Thomas says. She suggests: a padded insulated lunch bag, an empty clementine box, an ice bucket with lid, wide-mouth metal can (coffee can, cookie tin) or plastic tub (Costco-sized tub of ice cream). Instead of using a container, you can also make small envelops out of bubble wrap (and a bit of clear packing tape) for each disc or blade attachment, Thomas says. Or try sewing together two quilted pot holders for protective storage for blades so you don't cut yourself. Another way to keep discs organized is to mount a magnetic strip (a magnetic knife rack will do) on the back of a cabinet. Ideally, it's in the same cabinet that your food processor is stored so there's room to reach in once you're ready to chop, shred or slice.