By Jacqueline Nochisaki
"Now that all the beautifully colored autumn produce is in full swing, we eat squash at least once a week around here," Culinary Director Lindsay Johnstone says. "Maybe even more than that."
The following recipe—one of our early fall favorites—stars the delicata squash, a gourd we love for its small, manageable-in-the-kitchen size. It's super-easy to clean and cut. Also, there's no huge stem, and it's totally edible—you can even eat the peel.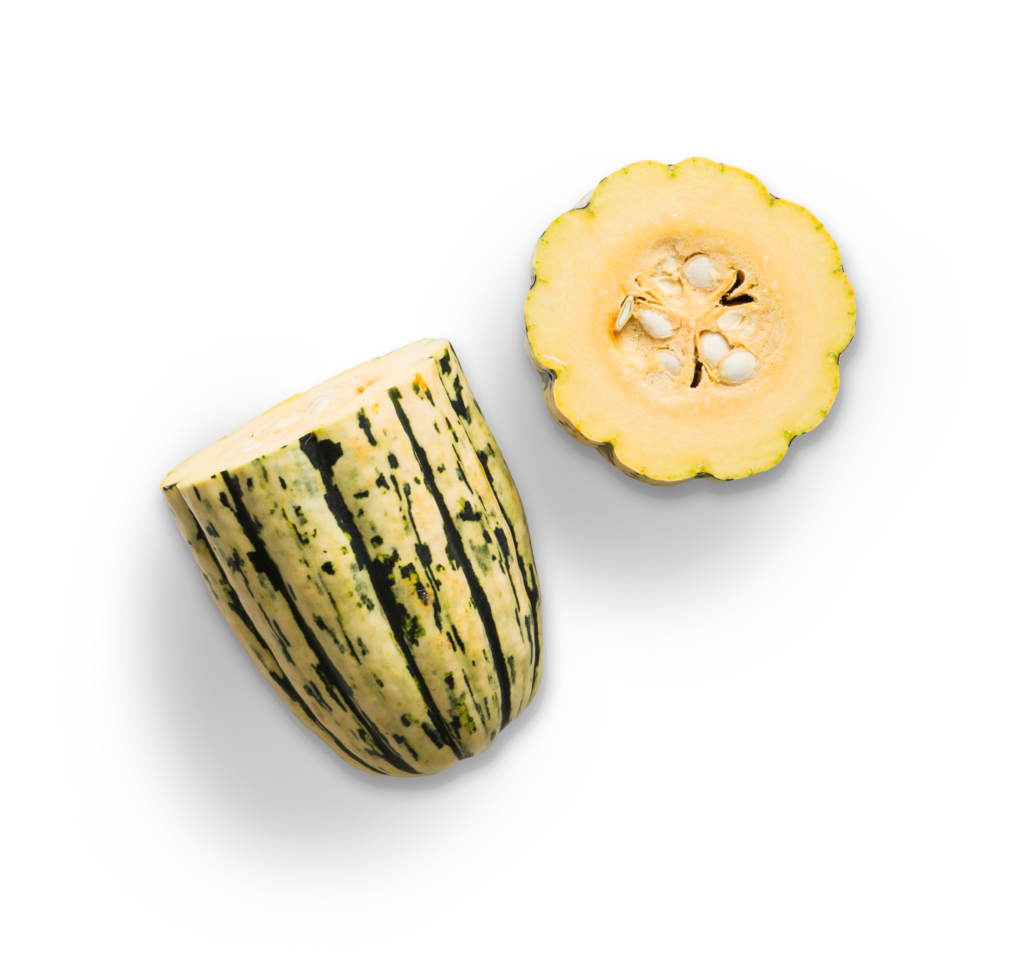 You'll love the delicata—especially in the below hearty, Asian-inspired ramen recipe—for its slightly sweet, incredibly rich flavor, thanks to that "delicate" (and edible!) skin for which the squash is named. It's smooth, almost creamy in texture, without any of the string or sinews you get with other types of squash, says Johnstone.
The delicata is the star of our recipe and to show off the vibrant, green stripes, we've sliced it into rings. The beautiful skin makes the veggie a striking centerpiece for the slew of upcoming holiday meals and it packs a nutritious boost of beta-carotene, vitamin A, and vitamin C.
For your own recipes featuring in-season squash, from now through December or even January, choose a delicata that feels heavy for its size with smooth, firm, cream-colored skin and bright stripes. They store well for up to three months in a cool, dry spot.
Delicata Squash Ramen with Miso Broth and Buckwheat Noodles
Delicata squash is a wonder of the gourd family; the skin is edible, the seeds are delicious (especially when toasted!), and it cooks quickly. If you'd li
ke to toast the seeds, simply give them a rinse, add to the baking sheet, and sprinkle with salt. They can roast alongside the delicata.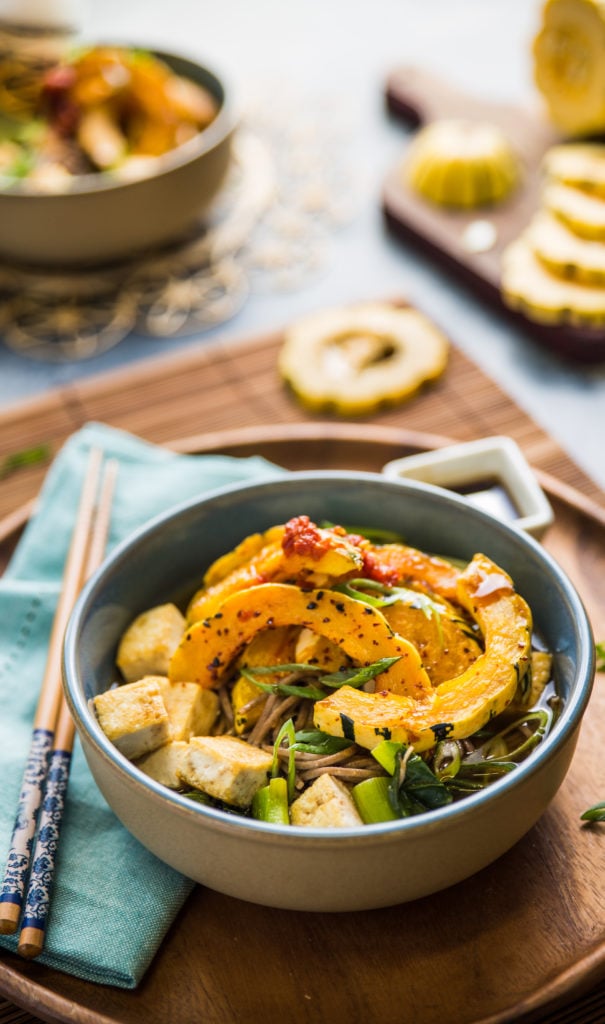 SUMMARY: Serves: 2
Cook Time: 30 minutes
NUTRITION
Calories:  640
Fat:  23g
Carbohydrates:  85g
Dietary Fiber:  6g
Sugars: 15g
Protein: 25g
Allergens: Soy, Wheat
INGREDIENTS
1 delicata squash
½ tsp togarashi spice
1 package Wildwood® Extra Firm SprouTofu®
5 oz buckwheat soba noodles
4 oz yu choy
1 scallion
1 tbsp miso paste
1 tbsp tamari
2 tsp chili garlic sauce*
2 tbsp sweet soy
*This item will be split between multiple steps.
FROM YOUR KITCHEN
2 tbsp vegetable oil
Salt
TOOLS
Large pot
Baking sheet
Medium nonstick skillet
DIRECTIONS
Step 1 – Roast the squash
Preheat oven to 400°F. Place a large pot of salted water on to boil. Trim the ends off the delicata squash and halve. Use a spoon to scoop out the seeds. Cut squash into ½ inch thick rounds and place on a baking sheet. Toss with 2 tsp vegetable oil, sprinkle with salt and as much or as little togarashi as you'd like, and roast until slightly caramelized and tender, about 15 to 20 minutes.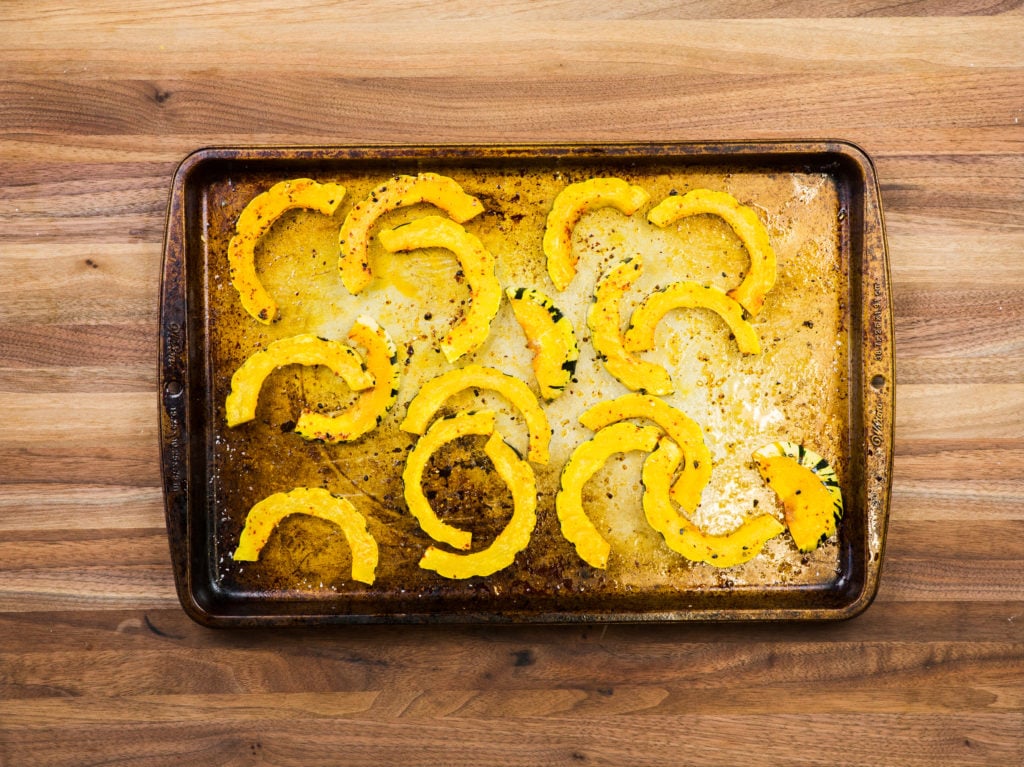 Step 2 – Sear the tofu
Drain the Wildwood® SprouTofu®  and cut into 1 inch cubes. Place a medium nonstick skillet over medium-high heat and add 1 tbsp vegetable oil. Season the tofu with salt and add to the hot skillet. Cook until the bottom of each piece is golden brown, about 4 to 5 minutes. Flip and cook an additional 3 minutes. Transfer tofu to a plate and cover to keep warm.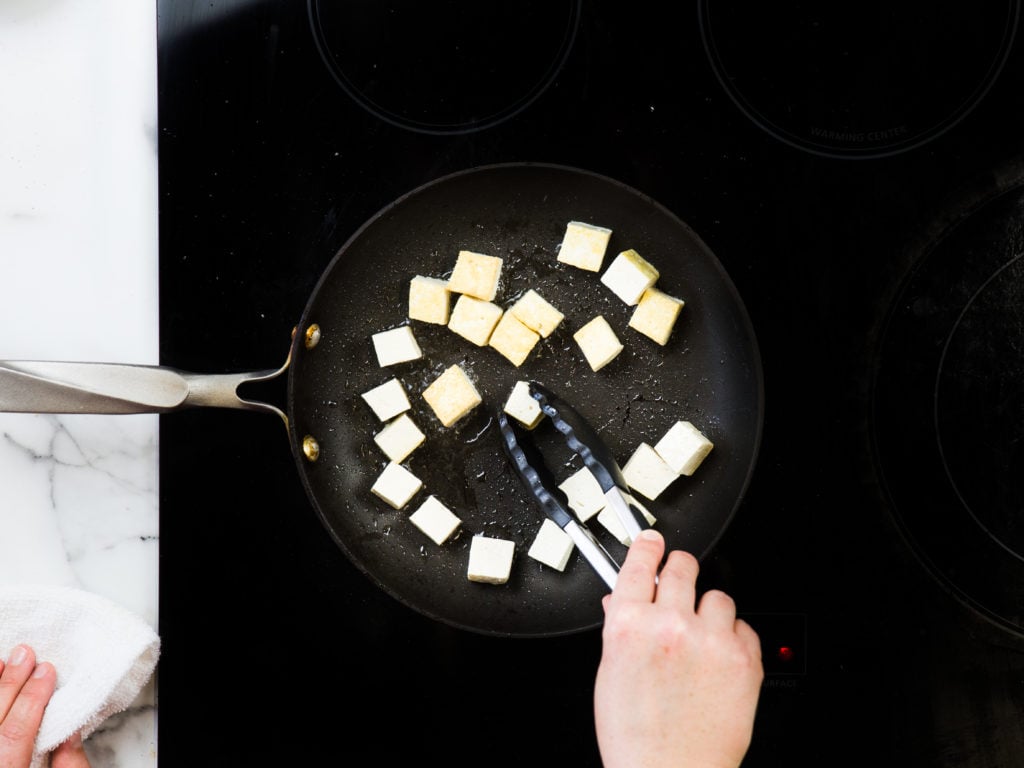 Step 3 – Cook the noodles
Once the water is boiling, add the buckwheat soba noodles and let cook for 2 minutes. Gently separate noodles with a fork and cook until al dente, an additional 2 to 3 minutes. Drain the noodles and rinse under cool water.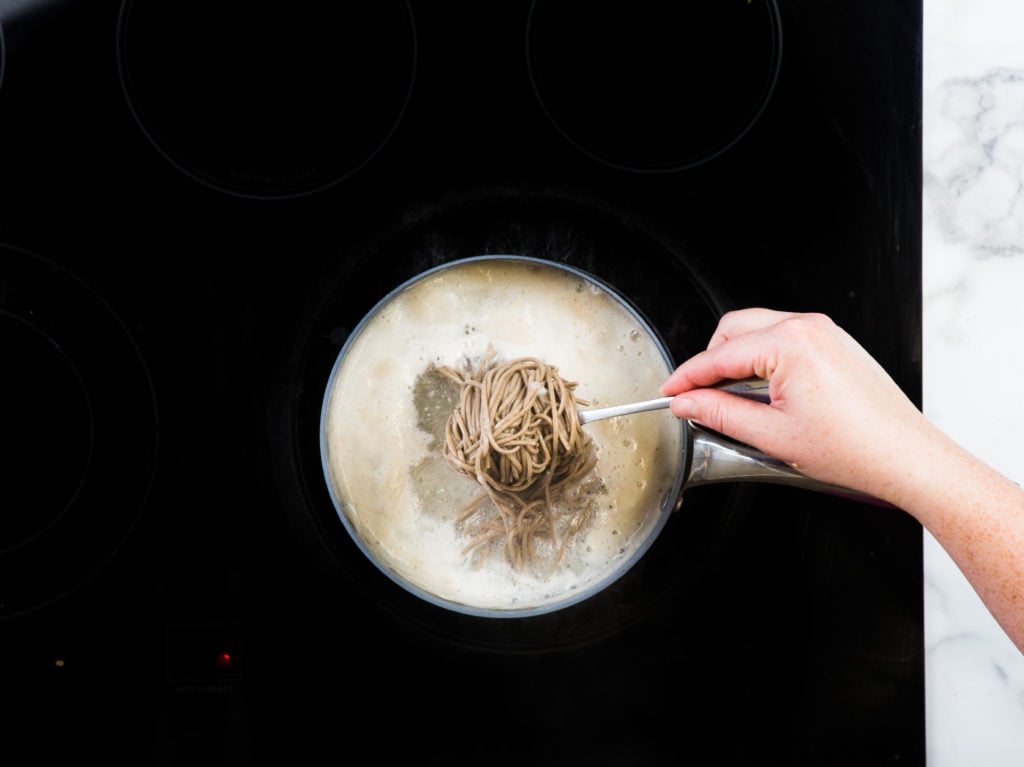 Step 4 – Building flavor
Chop the yu choy into large pieces.Thinly slice the scallion, keeping the greens and white separate. Wipe the large pot clean and place over medium-high heat with 2 tsp vegetable oil. Once hot, add the yu choy and scallion whites and cook for 1 to 2 minutes.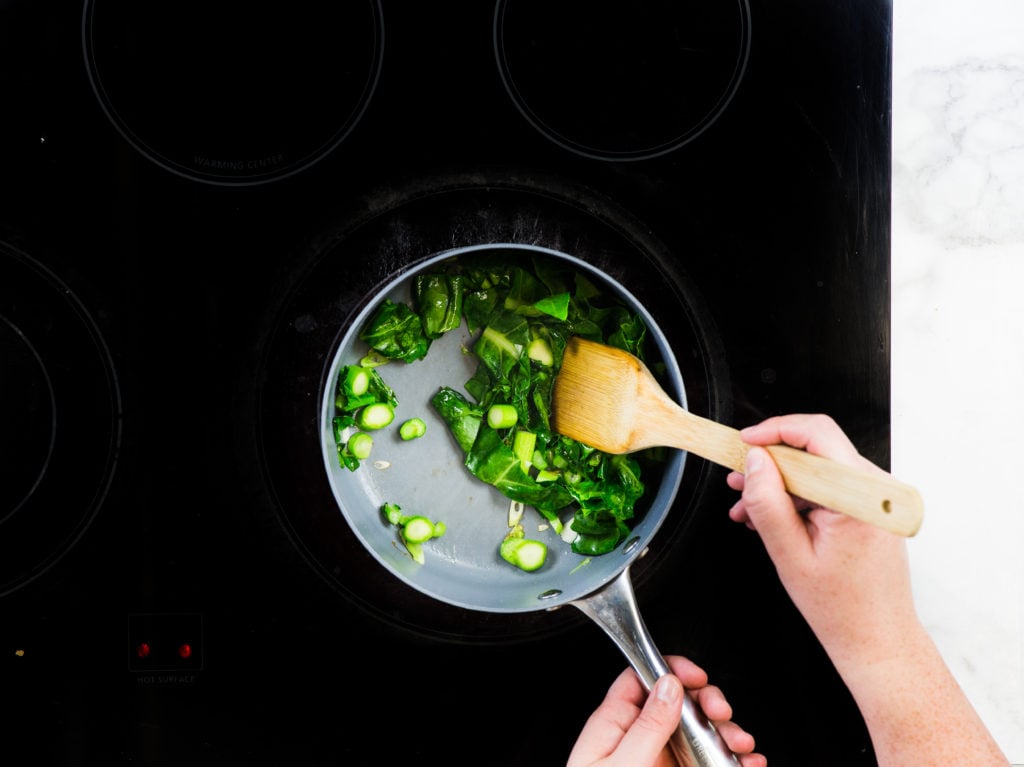 Step 5 –  Make the miso broth
Add the miso paste, tamari, half the chili garlic sauce, and 2 cups water to the pot. Whisk to incorporate. Bring miso broth to a simmer and then reduce heat to low. Season with salt and let the broth gently simmer until you are ready to build your ramen bowls.
 TIP: Add more or less chili garlic sauce depending on how much heat you like.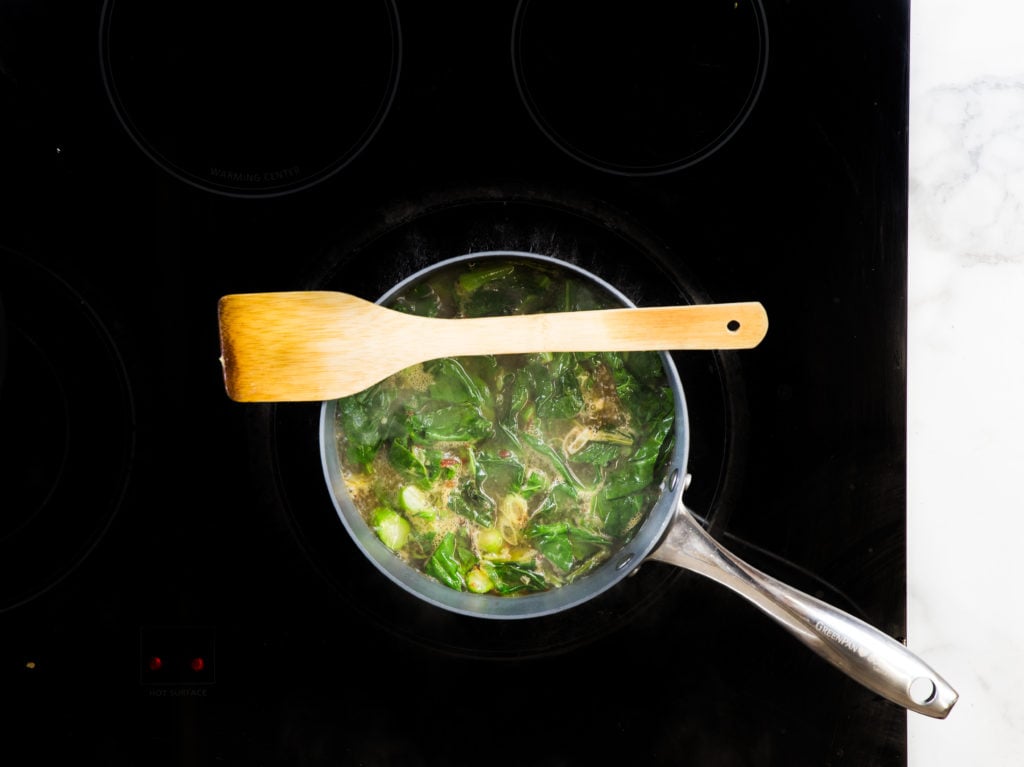 Step 6 – Garnish and serve
Divide the buckwheat noodles between large bowls. Top with miso broth, tofu, delicata squash, and scallion greens.  Drizzle with sweet soy and serve with any remaining chili garlic sauce. Grab your chopsticks and enjoy!