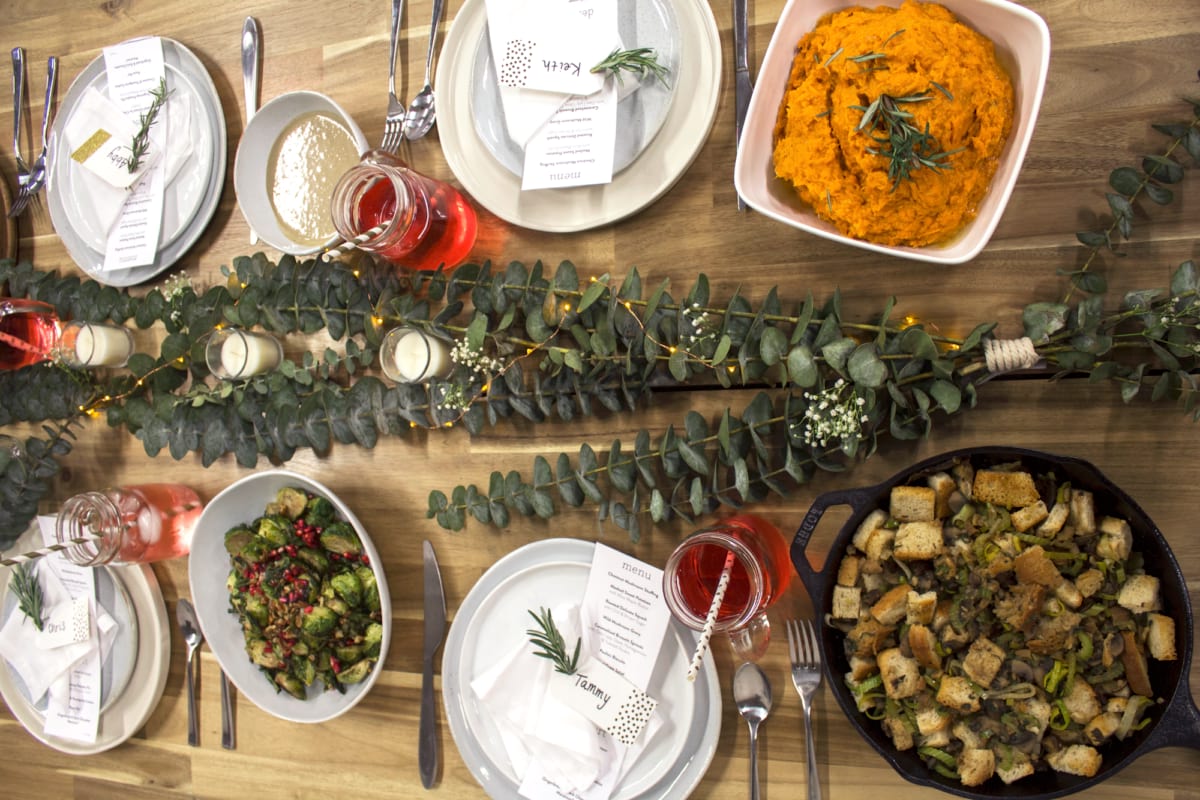 Easy Vegan Thanksgiving Recipes
Eating a vegan Thanksgiving in your own home can be easy since you are in charge of what you stock your kitchen with. But, anxiety can arise when you're invited to a Friendsgiving. The great news is that there are many plant-based or vegan dishes you can contribute that anyone will love.
In this article you will learn how to make three dishes gobbled up by Team Carrot during our recent Friendsgiving.
Vegan Chestnut Mushroom Stuffing
Serves 6-8
NUTRITION PER SERVING
Calories: 350
Fat: 7g
Carbohydrates: 68g
Dietary Fiber: 15g
Sugars: 11g
Protein: 14g
INGREDIENTS
2 lb hearty vegan white bread
1 lb mushrooms (any mix will do!)
3 celery stalks
¾ cup roasted and shelled chestnuts
3 tbsp fresh sage
2 cloves garlic
3 leeks
¼ cup olive oil
1 quart low sodium vegetable stock
Salt and pepper to taste
Step 1.
Adjust your oven racks to the lower and middle positions and preheat your oven to 275 °F. Cube the bread and spread evenly over two rimmed baking sheets. Put one tray on each rack, and bake until completely dried, about 50 minutes total. Rotate trays and stir bread cubes several times during baking. Remove from oven and allow to cool. Increase oven temperature to 350 °F.
Step 2.
Rinse and dry the mushrooms and celery. Place the mushrooms in the bowl of a food processor. Pulse until roughly chopped, about 8 times, and place mushrooms into a bowl. Place the chestnuts in the food processor (do not wipe out bowl) and process until roughly chopped, about 12 short pulses. Set aside. Finely chop the sage, peel and mince the garlic, and small dice the celery.
Step 3.
To clean the leeks, trim off the dark green leaves and root end. Cut each in half vertically, and then slice into half moons. Place sliced leeks into a medium bowl and fill with cold water. Swish leeks and water around to remove the grit from the inner layers. Scoop the cleaned leeks out with your hands (dumping the whole thing would dirty the leeks again) and lay on a paper towel to dry.
Step 4.
Heat oil in large pot oven over medium-high heat until shimmering. Add the mushrooms and cook, stirring frequently until all moisture has evaporated, about 8 minutes. Add half of the sage and continue to cook, stirring, until mushrooms are well browned, about 5 minutes. Add the leeks, celery, garlic, and remaining sage and cook, stirring frequently, until vegetables are softened, about 10 minutes. Add stock and chestnuts, bring to a boil, and cook until the mixture begins to thicken slightly, about 5 to 7 minutes. Add bread cubes and fold gently until evenly mixed. Season to taste with salt and pepper.
Step 5.
Transfer stuffing mixture to a greased 9- by 13-inch rectangular baking dish, cover tightly with foil, and bake until hot, about 30 minutes. Remove foil and continue baking until golden brown and crisp on top, about 10 minutes longer. Remove from oven, let stand for 5 minutes before serving.
Roasted Brussels Sprouts with Pecans, Pomegranate & Date Lady Glaze
Serves 6-8
NUTRITION PER SERVING
Calories: 140
Fat 7g
Carbohydrates: 20g
Dietary Fiber: 4g
Sugars: 14g
Protein: 3g
INGREDIENTS
1 lb Brussels sprouts
2 tbsp olive oil
6 tbsp Date Lady Syrup
1 tsp sriracha sauce
1 tsp tamari
3 tbsp water
½ cup pecan pieces
1 pomegranate
Salt and pepper to taste
Step 1.
Preheat your oven to 425 °F. Rinse and dry the Brussel sprouts and then trim and halve — if your Brussels sprouts are really small, you can leave them whole. Toss Brussels halves with olive oil and season generously with salt and pepper. Roast until caramelized and tender, about 5 to 8 minutes.
Step 2.
In a small saucepan combine the Date Lady Syrup, sriracha, tamari, and water. Bring to a boil on medium-high heat and then reduce heat to low. Let simmer until slightly reduced, about 3 to 5 minutes. Remove from the heat.
Step 3.
Place pecans in a small skillet over medium heat and cook until fragrant and toasted. To prep the pomegranate, roll it on your cutting board a few times to loosen the seeds. Halve the pomegranate, and use your knife to make small cuts in the membrane (the white part) of each half. Working over a bowl, use a wooden spoon to hit the back of the pomegranate a few times, and the seeds will fall into the bowl. Turn the pomegranate, and continue on both halves until all the seeds are extracted.
Step 4.
Combine the roasted Brussels sprouts with the date glaze, half of the toasted pecans and half of the pomegranate seeds. Toss well and season with salt and pepper. Place in serving bowl, and top with remaining pecans and pomegranate seeds.
Miso Maple Mashed Sweet Potatoes
Serves 6-8
NUTRITION PER SERVING
Calories: 290
Fat: 9g
Carbohydrates: 50g
Dietary Fiber: 7g
Sugars: 13g
Protein: 4g
INGREDIENTS
4 lbs sweet potatoes
6 tbsp vegan butter
2 tbsp maple syrup
2 tbsp white miso paste
Salt and pepper to taste
Step 1.
Peel and cube the sweet potatoes. Place in a large stock pot and cover with cold water. Bring to a boil and cook until potatoes are soft and you can pierce them with a fork, about 18 to 20 minutes. Drain well and transfer to a large bowl.
Step 2.
While potatoes are cooking, mix together the vegan butter, maple syrup, and miso paste in a small bowl.
Step 3.
Using a potato masher, mash the sweet potatoes until smooth. Add miso maple butter and using a spoon or rubber spatula, combine. Season with salt and pepper to taste.
Do you have a favorite vegan Thanksgiving dish? Share it over social media with #purplecarrot.