Eat More Plants for Heart Health
by: Sarah Gold Anzlovar, MS, RDN, LDN
According to a new report from the American Heart Association, nearly half of Americans have some form of cardiovascular disease. But it's not all doom and gloom. Whether you're 25 or 75, making the right lifestyle choices—including eating a healthy diet—can significantly reduce your chance of developing cardiovascular disease.
One of the best ways to keep your heart healthy is to eat more plants. When you eat vegan or a diet that prioritizes plants over animal products, you may reduce your risk of cardiovascular disease by lowering your intake of saturated fat (fat primarily found in animal foods that can contribute to heart disease).
A truly heart-healthy diet goes beyond limiting or removing red meat and dairy, however. Eating more plants is just as, if not more, important! Show your heart some love by adding these foods to your plate:
Embrace the Power of Produce
Fruits and vegetables are filled with vitamins, minerals, and phytonutrients that may reduce blood pressure and inflammation, two risk factors for heart disease. All produce offers health benefits, but a few nutritional powerhouses for heart health include berries, dark leafy greens, and avocados.
Get the Whole Grain
Whole grains like oats, barley, farro, and wheat berries contain soluble fiber, which helps lower total and LDL cholesterol. High cholesterol is linked to an increased risk of heart attack and stroke. Aim to make at least half your grains whole.
Go Nuts for Nuts (and Seeds)
Nuts and seeds contain heart-healthy fats known as monounsaturated fats. Walnuts, along with hemp, chia, and flax seeds also provide plant-based omega-3 fatty acids, which may lower cholesterol and your risk for heart disease.
Know the Benefits of Beans
Beans and legumes are powerful plant-based proteins filled with fiber, vitamins, minerals, and phytonutrients, all of which contribute to a healthy heart. In fact, replacing red meat with beans in your diet may reduce cholesterol and improve other risk factors for heart disease like blood pressure and inflammation.
Flavor with Herbs and Spices
Skipping (or significantly reducing) salt intake can lower blood pressure in people with hypertension. Less salt doesn't have to mean bland food, however. Turn to new herbs and spices to elevate flavor in your meals. And for even more heart benefits, cook with garlic, which is full of antioxidants and is shown to reduce cholesterol and blood pressure.
Cook with Plant-Based Oils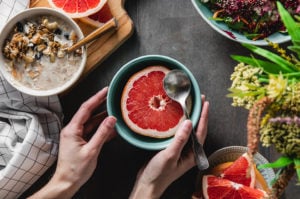 Replacing butter and other animal fats when cooking is an easy step toward improving your heart health. Plant oils like olive and canola oil contain heart-healthy monounsaturated fats. Olive oil is also known for its antioxidant properties from polyphenols, which may help reduce inflammation. Other heart-healthy oils include avocado, flax, sesame and walnut oil.
Ready to add more plants to your plate?
Purple Carrot makes it easy to eat plant-based meals by delivering the ingredients and recipes right to your door. Their meals are full of vegetables that promote heart health. Learn more about Purple Carrot meals here.  
Sarah Gold Anzlovar, MS, RDN, LDN is a Boston-based registered dietitian nutritionist (RDN) and nutrition communication specialist helping active people fuel their busy lives so they can feel their best.
Sarah holds a Bachelor's degree in Business Administration and Marketing from The George Washington University and a Master of Science in Nutrition Communication from Tufts University's Friedman School of Nutrition Science and Policy. She completed her Dietetic Internship at Brigham and Women's Hospital, a Harvard University teaching hospital in Boston, MA.
When not in the kitchen, you can find Sarah seeking out the latest restaurant opening, teaching indoor cycling, running, training for triathlons, or hiking or skiing with her husband and golden retriever pup.