Eric Adams on Battling Chronic Disease Through Plant-based Eating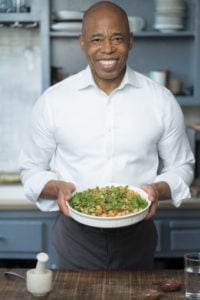 Adams served as an NYPD officer for over two decades, and with the stress and rapid pace of his job, healthy eating was the last thing on his mind. Then in 2016 Adams found himself battling a slew of chronic illnesses that made him question his diet and lifestyle—and ultimately led him to a whole foods, plant-based lifestyle. Not only did Adams reverse his Type 2 diabetes by changing his diet, he also reversed his vision loss and high blood pressure, and his ulcer disappeared.* And with the recent publication of "Healthy At Last: A Plant-Based Approach to Preventing and Reversing Diabetes and Other Chronic Illnesses," Adams is now on a mission to help others. Talk about an inspiration!
Got questions? Eric's got answers!
Q: What inspired you to write "Healthy At Last?" Could you give an overview of the health issues you faced?
A: I was so inspired by watching how
a plant-based diet could reverse not only Type 2 diabetes, but the impact from it. Vision loss, nerve damage, an ulcer, high blood pressure, all of those chronic diseases were reversed when I went to a plant-based diet and that inspired me to write a book.
Q: What was the most challenging part about transitioning to a plant-based diet, and how did you overcome that challenge?
A: Probably the most challenging part of the transition was that I couldn't cook. So, I slowly learned new spices, new foods, and I stopped being afraid to venture out from the norm. Amazingly, it was like the sun came up. All of that fear dissipated and now it's an exciting journey.
Q: What is the most surprising benefit that you've noticed through your health journey?
A: One of the most surprising benefits of a plant-based, healthy lifestyle was number one: how fast I was able to drop weight and feel so comfortable through it. And second: how good food tastes. Food should look good,
it should be good for you … but darn it, it should taste good! And I'm amazed; going plant-based does not mean carrying around grass in your pocket all the time. It means introducing yourself to new amazing foods.
Q:
What's your favorite plant-based meal?
A: My favorite plant-based meal is my 3 ingredient ice-cream. Frozen bananas, peanut butter without sugar added, and cacao powder. Put it in a Ninja [blender], and you have a treat you will love!
Q:
Has going plant-based had an impact on the work you do as the Brooklyn Borough President?
A: Going plant-based has had an amazing impact on what I do as borough president. I'm able to reach people every day who are going through a chronic disease and share how they can reverse that disease. Nothing brings me a greater amount of joy than when people meet me on the street and say, 'Hey, I now feel healthier and I now believe I can reverse my chronic disease.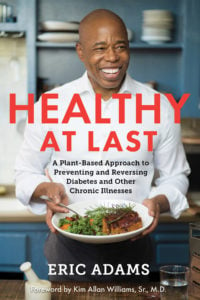 Q: What is one piece of advice you would give to someone who is struggling with their health and is looking to include moreplants into their diet?
A: The best piece of advice I can give someone who is struggling with their health is to read the book. Read, study, and believe in yourself. On the other side of chronic disease is health! All you have to do is go out of your way three times a day: breakfast, lunch, and dinner. Go plant-based and have a healthy lifestyle.
* Please note that individual results may vary.