Hosting a party for the big game, and looking for some healthier snack alternatives? Here are a few guilt-free game day recipes that will be sure to even the pickiest of eaters.
Loaded Vegan Nachos

Serves: 6-8
Ingredients:
1 bag

Corn Tortilla Chips

1 can

Black Beans – drained and rinsed

2 cups

Shredded Vegan Cheddar Cheese

2 each

Jalapenos – thinly sliced

½ cup

Sliced Black Olives

2 each

Avocados

¾ cup

Spicy Ranch Dressing (recipe follows)

1½ cups

Pico de Gallo (recipe follows)
Step 1. Preheat the oven to 350 degrees. Make the Spicy Ranch Dressing and Pico de Gallo.
Step 2. Spread the tortilla chips out on a large baking sheet. Top with black beans, shredded vegan cheese, jalapeños, and black olives. Cook in oven until beans are warmed through and the cheese is melted, about 8 to 10 minutes.
Step 3. While the nachos are baking, halve you ripe avocados and remove the pits. Dice the flesh and set aside. Remove the nachos from the oven and top with the diced avocado and pico de gallo. Drizzle with Spicy Ranch and serve any extra sauce on the side for dipping!
Spicy Ranch Dressing
Ingredients:
½ cup

Vegan Mayo

¼ teaspoon

Garlic Powder

¼ teaspoon

Onion Powder

½ teaspoon

Dried Parsley

⅛ teaspoon

Cayenne

1 teaspoon

Apple Cider Vinegar

¼ cup

Almond Milk

Salt and Pepper
Combine all ingredients in a small bowl and mix well with a whisk. Chill until ready to use.
Pico de gallo
Ingredients:
3 each

Roma Tomatoes – seed and chopped

1 each

Red Onion (small) – finely diced

3 tablespoons

Fresh Cilantro – chopped

1 

Lime

1 

Jalapeno – seeded and finely chopped

 

Salt and Pepper
Combine the tomatoes, red onion, cilantro and jalapeño in a medium bowl. Halve the lime and squeeze the juice into the salsa. Season with salt and pepper and mix well to combine.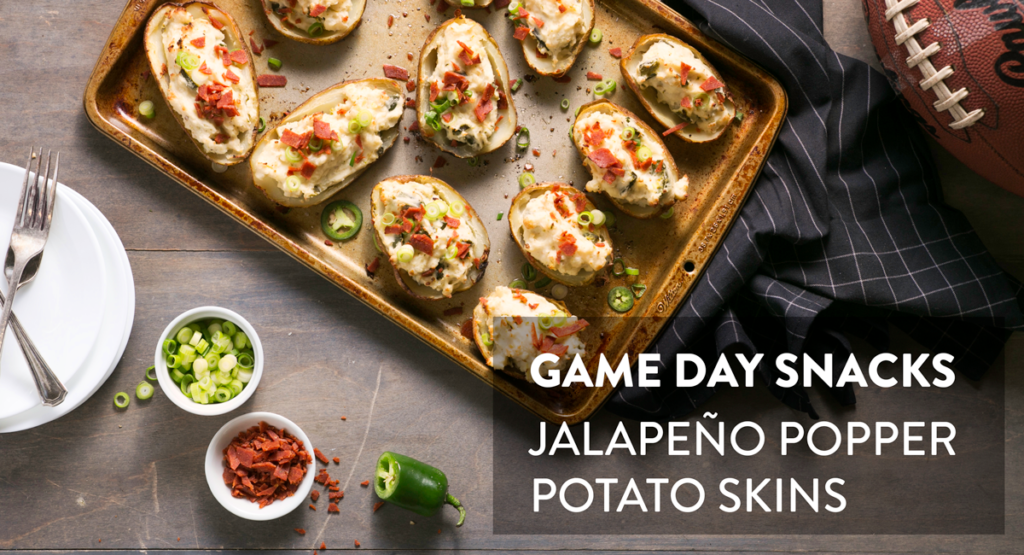 Easy Jalapeno Popper Potato Skins
Serves: 8-10
Ingredients: 
7 each

Russet Potatoes – scrubbed and thoroughly dried

5 each

Jalapenos – halved lengthwise

2 each

Scallions – thinly sliced

8oz

Non-Dairy Cream Cheese – softened

¾ cup

Vegan Bacon Bits

2 tablespoons

Oil

Salt and Pepper
Step 1. Preheat oven to 400 degrees. Using a fork, poke holes in all the potatoes (this will help moisture escape as they cook and yield a fluffier potato!). Place the potatoes on a baking sheet and bake until the skins are crisp and you can easily pierce the flesh with a fork, about one hour. Transfer potatoes to a wire rack until cool enough to handle.
Step 2.  On another baking sheet, toss the jalapenos with 2 tbsp of oil, salt and pepper. Bake in the This oven with the potatoes until tender and slightly charred, about 40 to 45 minutes. Once done, chop the jalapeno into small pieces.
Step 3.  Carefully slice the cooked potatoes in half lengthwise down the middle. Hold each half in your palm (use a dish towel if they're still too hot), and using a spoon, scoop out the flesh and add to a large bowl. Once you're finished scooping all of the potatoes, lay the skins back on the baking sheet.
Step 4. To the large bowl, add the non-dairy cream cheese and chopped jalapenos, mix well,  and season with salt and pepper. Spoon the filling back into the skins and place potatoes back into the oven until lightly browned, about 12 to 15 minutes. Remove potato skins from oven and top with scallion and vegan bacon bits. Dig in!