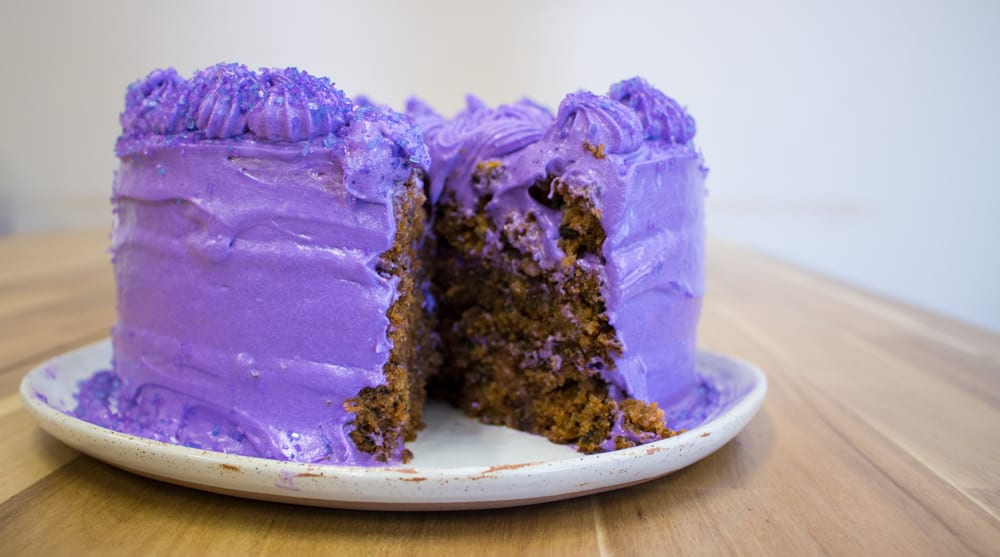 Heavenly Vegan Carrot Cake with Cream Cheese Frosting Recipe
This month, Purple Carrot officially turns 2! We decided to celebrate by whipping up a 'Purple Carrot'  Vegan Carrot Cake in the office — we're firm believers of everything in moderation, indulgence included.
Peep our recipe for the cake below! If you make your own, share the celebration on social with the tag #purplecarrotxoxo.
Purple Carrot's Vegan Carrot Cake
INGREDIENTS
Vegetable oil spray (to grease your pans)

3 3/8 cups all-purpose flour (plus extra to dust your pans)

Flax Eggs (4 ½ tbsp ground flaxseed  and ¾ cup + 1 ½ tbsp of water)

3 tsp baking soda

5 tsp ground cinnamon

4 tsp pumpkin pie spice or ground allspice

1 ½ tsp baking powder

1 ½ tsp salt

1

⅛

cup firmly packed dark brown sugar

1

⅛

cup granulated sugar

2 ½ tsp vanilla extract

1 ½ cup canola oil

3 cups purple carrot, peeled and finely grated

21 oz canned crushed pineapple, drained
Vegan "Cream Cheese" Frosting
10 oz vegan cream cheese (we used Tofutti Better Than Cream Cheese)

½ cup vegan butter (we used Earth Balance)

6 cups powdered sugar

4 tsp vanilla extract

2 tsp lemon juice

Purple food coloring (optional)
Make the Cake:
Preheat the oven to 350°F. Cut three 8-inch circles of parchment paper, and place in the bottom of three 8-inch round cake pans. Spray each pan with vegetable oil spray, dust with flour, and set aside.
In a small bowl, whisk together the ground flax seed and water until thoroughly combined. Put the bowl in your refrigerator to thicken for 15 minutes.
In a large bowl, sift together the flour, baking soda, cinnamon, pumpkin pie spice (or allspice), baking powder, and salt. Mix well.
In the bowl of an electric stand mixer, place the flax eggs, brown sugar, and granulated sugar and mix on medium-high speed until creamy and the mixture lightens in color. Add in the vanilla and the vegetable oil, and mix on low speed until combined.
Working in batches, add the dry ingredients to the bowl of the stand mixer, mixing on low after each addition and scraping down the sides of the bowl as needed. Mix until just combined; the batter will be thick. Using a rubber spatula, stir in the  grated carrots and drained pineapple.
Evenly divide the batter between the three cake pans. Bake for 30 to 35 minutes, but begin checking for doneness after 30 minutes. The cakes are baked when a toothpick inserted in the center comes out cleanly, or with a few crumbs.
Transfer vegan carrot cakes to wire racks and allow to cool completely before frosting. You can make the cakes ahead of time, and store wrapped well in plastic wrap in your fridge, before frosting the next day.
Make the Frosting:
Add the vegan cream cheese, vegan butter, vanilla, and lemon juice to the bowl of a stand mixer. Mix on high for 30 seconds to evenly combine. Add the powdered sugar in two batches, mixing after each addition. 
Your frosting can be done at this point, or you can add in the purple food coloring for some Purple Carrot style — if you do, mix again until you achieve the desired shade of purple.
You can also make the frosting ahead of time, and store it in an airtight container in your fridge until you're ready to assemble.
Assemble the Cake:
Once the cakes are completely cool, place a dab of frosting on a cake stand or plate to keep the cake from sliding around, and then place the first layer of cake on top. 
Using a large palette knife or spatula, spread a layer of frosting on the top of the first layer of cake. Top with another layer of cake, and repeat. Add the final layer of cake.
Cover the top of the final layer and the sides with a thin coating of frosting, just enough to cover the cake — this is called the "crumb coat", and prevents cake crumbs from ending up in your final frosting. Put the cake and the frosting in the fridge to chill for about 20-30 minutes. 
Remove the cake from the fridge, and spread the remaining frosting around the top and sides. If you have any frosting left over, scoop it into a plastic bag, snip off the corner, and pipe a border or design…whatever you want!
Need something a little less sweet after your vegan carrot cake? Check out our wholesome, delicious plant-based meals from Purple Carrot.