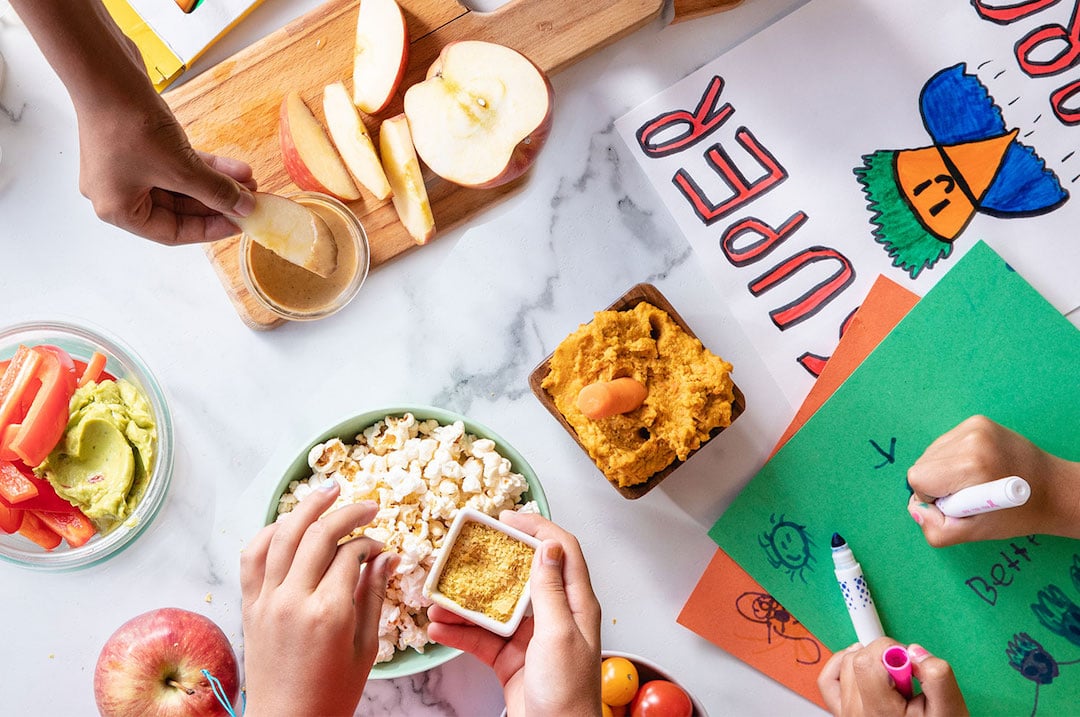 Help Your Kids to Love Vegetables
by: Sarah Gold Anzlovar, MS, RDN, LDN
Whether you're a plant-based family or would just like your kids to eat more vegetables, eating more plants is always a good thing. Plant foods are packed with nutrients that kids (and adults) need to thrive, so the more the better!
But, let's be honest, getting kids to eat more veggies can feel like a fool's errand no matter how hard you try. According to the Centers for Disease Control (CDC), 93 percent of children don't eat the recommended 1-3 cups of vegetables per day (recommended amounts depend on the child's age). So, what's a concerned parent to do?
Introduce plant foods early and often
"It can take up to 20, or even 30 times of offering a food before a child will try that food" says Rachel Rothman, MS, RD, CLEC, registered dietitian and a pediatric feeding expert.
If that sounds like weeks and months of work to you, don't despair. Rather than trying to introduce the same food every day in the same way put your imagination to work. Lainey Younkin, MS, RD, registered dietitian at Lainey Younkin Nutrition and mom to two little boys says, "Focus on bringing different vegetables into the meal rotation and mix up how you prepare them."
Prepare plant foods in a variety of ways
Try roasting, grilling, or sautéing vegetables if your child doesn't like them raw. Different cooking methods offer different flavor profiles.
Younkin recommends serving new vegetables along with foods that you know your child likes. Jessica Spiro, RD, plant-based dietitian, suggests adding nuts and seeds to smoothies or making plant-rich sauces to introduce more plants into kids' diets. One of my favorite tricks? Swap zoodles in for spaghetti.
Get the kids into the action
When kids can see, feel, and experience fruits and vegetables beyond their plate, they tend to get more adventurous about what they'll eat.
If space allows, plant a garden with your kids and watch the vegetables grow; watering and harvesting them is sure to get your kids excited.  Take them grocery shopping or to the farmer's market and let them pick the produce!  And, don't forget to include them in meal prep. Younger kids can help stir or add ingredients to the blender, while older kids can help chop and even cook.
"When you offer kids no-pressure opportunities to explore new foods, they are more likely to try them," says Spiro.
Actions speak louder than words
"Pickiness is a normal part of development, which often comes along with lower intake of vegetables" reminds Rothman, so don't bribe or force kids to eat certain foods. Instead think about eating vegetables as a long-term goal, she adds.  Model this behavior by eating vegetables and other plant foods at family meals.
A final word about plant-based diets for kids
As they say, if it's good for the goose, it's good for the gander. There's no reason your children can get all the nutrients they need from a well-planned plant-based diet. The Academy of Nutrition and Dietetics states that plant-based diets are not only safe for kids, but that kids who follow vegan and vegetarian diets are more likely to meet the recommendations for fruit and vegetable intake than meat eaters. That said, it's recommended that your children get a B12 supplement if they're eating a vegan diet.
Get the whole family involved with Purple Carrot
As with all little eaters, iron, zinc, calcium, and healthy fats, among other nutrients, are incredibly important for growth and development. Eating a varied diet filled with a variety of plants is the best way to ensure kids get all of the nutrients they need, but try not to let mealtime become stressful!
Dinnertime can be a great opportunity for some family bonding. Purple Carrot meals serve up plants in a variety of ways that can get your little ones excited about eating more plants. Learn more about Purple Carrot meals at purplecarrot.com.

Sarah holds a Bachelor's degree in Business Administration and Marketing from The George Washington University and a Master of Science in Nutrition Communication from Tufts University's Friedman School of Nutrition Science and Policy. She completed her Dietetic Internship at Brigham and Women's Hospital, a Harvard University teaching hospital in Boston, MA.
When not in the kitchen, you can find Sarah seeking out the latest restaurant opening, teaching indoor cycling, running, training for triathlons, or hiking or skiing with her husband and golden retriever pup.