Nothing But Treats Here! 
Chances are you're really into oat-milk, but have you tried it as a frozen treat? Meet Courtney Blagrove and Zan B.R., the sisters behind Whipped – Urban Dessert Lab. The pair created a variety of plant-based ice creams, and opened the world's first oat-milk ice crème™ shop in a Brooklyn, NY food hall. They also opened their own store in Manhattan in 2020, with the plant-based creations—including artisanal soft serve, toppings, and mix-ins—garnering a cult following.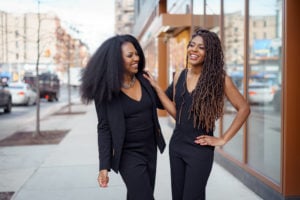 Courtney and Zan have a lot of experience doing research, with Courtney holding a PhD in nutrition and metabolism and Zan being an attorney. They put those skills to good use in researching and developing their own product formulas.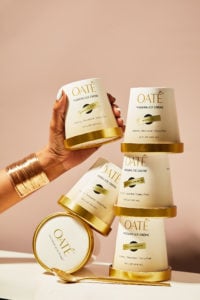 Hence, "Our growth has been fueled by the fact that we have created more than just a suitable dairy substitute. We have been able to create a product that is preferred over traditional ice cream by both the plant-based community and mainstream dairy consumers," says the duo. "We constantly hear compliments such as 'This is the best ice crème I've had in my life and I'm not vegan.'" 
Courntey and Zan aren't just passionate about creating a delicious dairy-free experience. They're also passionate about confronting systemic injustice, and are on a personal mission to increase the percentage of BIPOC women in executive and managerial positions in the culinary industry. As a black women-owned brand, they plan to continue dismantling the societal structures that challenge the progression of BIPOC women in the field.
What's your flavor?
     "As artisans and innovators, we are extremely dedicated to our craft and that dedication shines through in the product and branding." Late 2020 saw the launch of Oate™, a hard-scooped, oat-milk ice crème™ collection. A creamy and indulgent ice crème™ that even dairy lovers can't resist, Oate™ is currently available nationwide—in a variety of flavors— through Goldbelly Flavors include:
Blush Cake – Exquisite vanilla cake pieces folded into a blush strawberry and crème base

PB Chocolate – Spoon-perfect chocolate paired with peanut butter chunks

Cocoa Hazelnut – Velvety chocolate elevated with hazelnuts

Cookies & Crème 2.0 – Classic cookies & crème studded with fudge cookie pieces

Malted Espresso – A robust espresso flecked with malted crumble