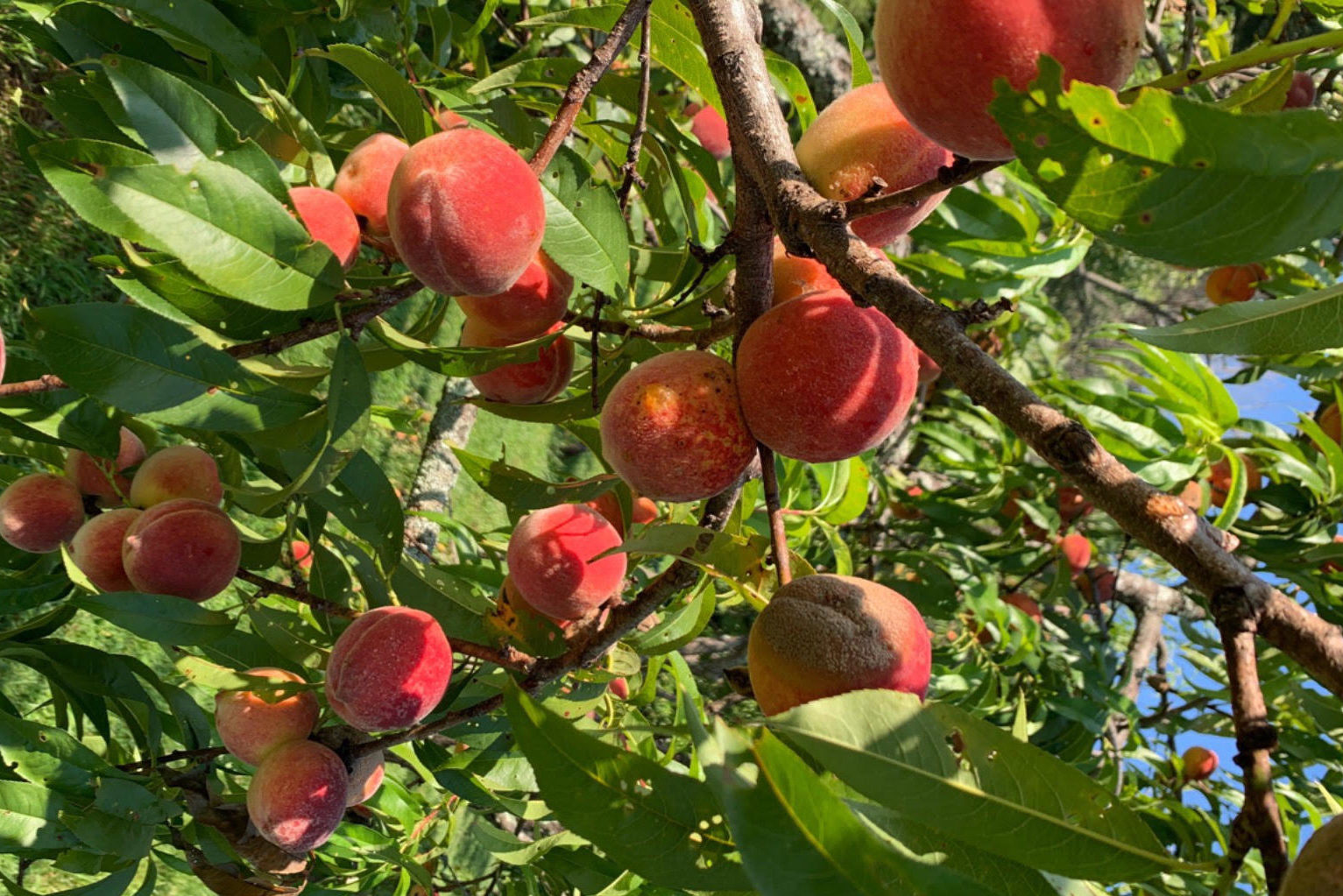 'Tis the Season for Peaches
by Purple Carrot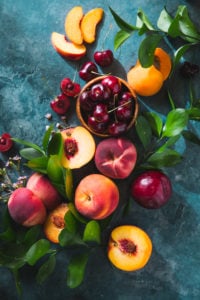 Peaches, along with nectarines, apricots, and cherries, are often referred to as stone fruit. They earned this nickname because of their hard pits, or stones. The technical name for this family of fruits, however, is drupes. Drupes are known for their thin skin, meaty, tender fruit, and hard seeds.
But it's their redolent smell that's the stuff summer memories are made of.  Even experiencing a brief moment of peach aroma brings us right back to hot, twilight evenings filled with friends and family. It's no wonder, the peach's bouquet is so unforgettable, the fruit is actually part of the rose family.
When peaches are in season, there's almost nothing we won't do for a taste. These succulent stone fruits are tender, delicious, and gloriously juicy. Whether you're taking a bite fresh from the tree, baked into a pie, or in a fruit salad, we love this sweet drupe.
Pick a Peach
'Tis the season to pick peaches! There's nothing like a trip out to a farm on a bright summer day. Keep these tips in mind, to pick the perfect peaches:
It's hard to reach the peaches growing at the top of the tree, but start there. Peaches closest to the sun ripen first.

Look at the shape of the peach. Ripe peaches are rounder. When you touch it, the peach shouldn't be too soft or too hard; you're aiming for

just right

.

Peaches that are a warm yellow-white or red-orange are ready to be picked. If you see any green skin, skip it, that peach needs more time to mature.  

Smell the peach before you pick it. If you catch a bit of sweet aroma, your peach is ripe.

And remember to pull the peach gently from the tree. Peaches that are ready will come off easily.
Bake a Peach Crisp
Once your basket is full, it's time to make something wonderful!  We find it hard to resist a peach crisp. There's almost nothing better than the combination of sweet, juicy peaches and the crunchy oat and brown sugar topping…yum!
This Ginger Peach Crisp is really special because of it's crust: it's made with almonds (another drupe!).  We think you'll love this one.
Ingredients
3 lbs fresh peaches, peeled and sliced

2 tbsp fresh ginger, minced

1½ cups all-purpose flour, divided 

½ cup light brown sugar, divided

⅛ tsp and a pinch of salt

½ cup rolled oats

¼ cup sliced almonds

6 tbsp vegan butter, chilled

¼ cup marzipan
Directions
Preheat the oven to 350°F. Add the sliced peaches, minced ginger, just 2 tbsp flour, just ¼ cup brown sugar, and a pinch of salt to a large bowl and toss. Toss the peaches every few minutes to ensure an even coating until you're ready to bake. 
In another large bowl, mix together the remaining flour, brown sugar, oats, sliced almonds, and ⅛ tsp salt. Add the butter and marzipan and mix with your hands, squeezing with your fingers, until a crumbly dough forms. 
Pour the filling into an 8 x 8 inch baking dish and top with the almond topping. Bake until lightly browned, about 40 to 45 minutes. The peaches should be bubbly, you may need to place a baking sheet under the dish to avoid dripping. Let the cobbler rest 15 minutes before scooping and serving with plant-based vanilla ice cream.
Peach tree photo: White Gate Farm in Epping, New Hampshire