If you're planning your next camping trip, listen up! We've got some tips to make camping while vegan as simple and delicious as possible. You'll even have the non-vegans drooling over your healthy and flavorful meals by the end of the trip. Check out your ultimate vegan camping guide.
Step 1: Research Your Campsite and Camping Cooking Options
The research-before-you-go rule isn't just for vegans. The most important detail for cooking is to find out if you have access to a fire or if you'll have to pack a stove.
When you start cooking, you'll likely be working with an open flame. Think of it just like the grill in your backyard, and you'll be whipping up delicious meals in no time. Things like pasta, oatmeal, and quinoa can easily be cooked by placing a pot on hot coals, while tofu steaks and veggies can be grilled on the gate.
Don't forget to use precautions when dealing with an open flame, and, of course, have fun!
Step 2: Plan (all of) Your Meals
Thinking ahead will ensure you get the most bang for your buck and use every ingredient you bring onto the campsite. If you're stuck on what to make, worry no more! Another trick is to prepare some meals in advance, like overnight oats for breakfast or chili for dinner, so you can spend as much time as possible enjoying the great outdoors. Here are our favorite camping-while-vegan meal options:
Breakfast
Fuel up with the most important meal of the day! Chances are you'll be hiking, kayaking, climbing, or doing some other strenuous activity, so give your body all the nutrients it needs in the AM. We love:
Steel cut oatmeal (or prep overnight oats ahead of time)

Quinoa porridge
Snacks
Think past the standard hummus and veggies and nuts and dried fruits for delicious between-meal bites!
Lunch
By lunchtime, you're bound to be starving. So something nutritious and delicious will be in order. Eat enough to sustain you through any afternoon activity! Try these:
Dinner
Making dinner while camping is a time to gather with friends and family and enjoy one another's company. While we love a good veggie burger or tofu dog, here are some out-of-the-box (or tent) dinner options to satisfy the whole family:
Dessert
Be sure you pack vegan graham crackers and marshmallows if you want s'mores, but grilled fruit (pineapples, peaches, and bananas) is an end-of-the-day treat that's a bit healthier.
Once you've eaten your fill, keep leftovers in a cooler, and if you can, put the cooler in a car or a metal bear box to keep animals out.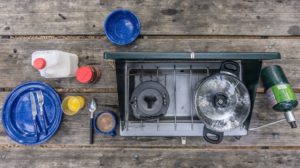 Step 3: Grab These Must-Have Camping Supplies
Now that you have the grub, you'll want to gather the right cookware and dinnerware to make prepping your campground meals as easy as possible. We love this all-in-one cook set from REI that has everything from plates and flatware to pots, pans, and a pot gripper; but if you prefer purchasing items a la carte, here's what we suggest:
1 medium to large lightweight cooking pot

1 medium cooking pan

Portable grill grate that can be placed over the fire (or stove, if necessary)

Plates, bowls, flatware, and mugs

Large cooler
Food storage containers
Water bottles
Biodegradable cleaning liquid, sponges, and towels

All those little things you're bound to forget:

Can and bottle openers

Cutting board

Tin foil
Skewers for kebabs
Pot holder
Step 4: Pack the Vegan Food Essentials
Once you've planned your menu, make a list of all the food items you'll need, from spices to cooking oil, and head to your nearest market. If you're more spontaneous, or just not into meal planning, check out the essentials we recommend taking on your vegan camping trip:
Oatmeal

Trail mix

Dairy-free milk

Dairy-free cocoa powder, t

ea, or coffee
Salt and pepper
Onion and garlic powder, or the real thing
Cooking spray or oil

Fruit

Veggies: tomatoes, lettuce, and easy-to-grill peppers, potatoes, and squash

Vegan condiments: mayo, mustard, and ketchup

Canned beans and chickpeas, organic

Veggie burgers and tofu dogs

Nuts and seeds

Bread-like items: Wraps, burger and dog buns, and v

egan bread

Vegan s'more fixings: marshmallows, dark chocolate, and graham crackers
If you're vegan or just looking for ways to eat a little healthier on your next camping trip, try implementing some of these tips. Camping vegan-style is much easier than you'd think!