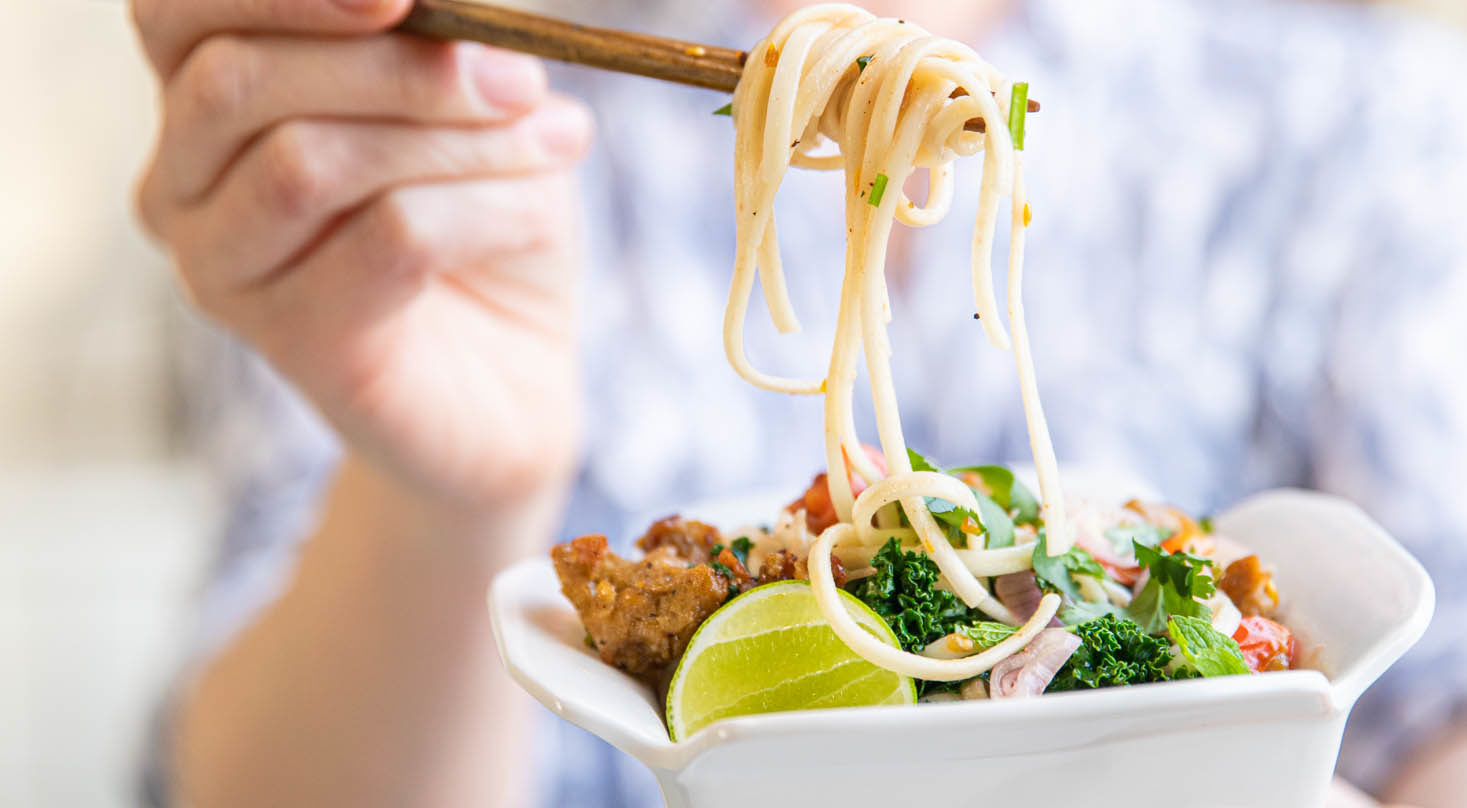 15 Plant-Based Restaurants to Check Out
by Purple Carrot
We love, love, love to cook at home (obviously), but this summer we're also making an effort to support our favorite local plant-based restaurants. The restaurants below are known for knocking vegan cooking out of the park, and there are plenty of other chefs making inspiring, delicious food, too. So check 'em out!
Northeast
True Bistro, Somerville, MA
True Bistro offers a plant-based fine dining experience with it's artfully prepared dishes. The menu changes based on what's in season, but you'll be sure to find fresh salads, small plates, and globally inspired fare. They also offer brunch on weekends!
Plant City, Providence, RI
Plant City is a vegan food food hall! With 4 sit down restaurants, a coffee bar, and market you're sure to find something you love here.
Bunna Cafe, Brooklyn, NY
Bunna Cafe offers a fully vegan menu of Ethiopian cuisine and a unique experience. In traditional Ethiopian fashion, you'll be able to chow down on a variety of delicious vegetables and stews all served up on classic injera bread. Yum!
Vedge, Philadelphia, PA
Inspired by seasonal vegetables, Vedge is one of Philadelphia's top fine-dining spots. The menu highlights vegetables in a way that is sure to blow your mind.
South
Plant, Asheville, NC
This 90% organic, and mostly local menu will change the way you think about vegan food. Plant features unique vegan dishes that are approachable and appealing to even the most skeptical eater. 
Plant Miami, Miami, FL
Plant Miami is focused on living foods. The plant-based menu features locally sourced ingredients including 57 varieties of edible flowers. With all those petals, the food is almost, too pretty to eat!
Avo, Nashville, TN
Avo takes vegan dining to a cool, new level! As the first raw plant-based dining concept in the Nashville, all dishes are prepared minus ovens,  fryers, or any heat above 118 degrees. This certainly doesn't stop Avo from "cooking up" delish meals from tacos to ravioli.
The Beer Plant, Austin, TX
Along with the 100% vegan craft beers and cocktails, you'll find decadent plant-based dishes from appetizers to desserts, at this Austin gastropub. Sounds like our kind of spot to eat more plants!
Midwest
Cafe Gratitude, Kansas City, MO
It's no doubt that sustainability takes center stage here—this solar powered restaurant focuses on making everything from scratch with locally sourced ingredients. You'll find everything from bowls and burgers to smoothies and desserts.
Detroit Vegan Soul, Detroit, MI
Detroit's first 100% vegan restaurant! Detroit Vegan Soul is serving up some serious comfort food. On the menu you'll find Catfish Tofu, Mac-n-Cheese, Okra Stew, and much more food for the soul.
J. Selby's, St. Paul, MN
Find your favorites reimagined at J. Selby's. The menu offers American classics turned vegan and the chefs pride themselves on keeping the veg-curious in the forefront of their mind. J. Selby's is also a non-tipping establishment that focuses on providing fair wages to their staff.
Modern Love, Omaha, NE
Modern Love in Omaha describes itself as "swanky vegan comfort food." The menu includes tasty plant-based items like homemade "pop tarts," gnocchi, and everything in between. You'll also find a great selection of kombucha!
West Coast
Gracias Madre, Los Angeles, CA
Inspired by nature and our planet, Gracias Madre creates plant-based Mexican cuisine. Everything is made in-house using local, organic ingredients. 
Plum Bistro, Seattle, OR 
Located in Capitol Hill, Plum Bistro's menu serves up a variety of plant-based dishes, many of which have Cajun-inspired flavors. It's chic, artful, and perfect for a classy vegan date.
Shizen, San Francisco, CA
Shizen is an inventive vegan sushi bar that's making Japanese cuisine even more accessible for those who don't eat seafood. Beyond sushi, Shizen also offers ramen and meatless small plates. 
Thanks to all the restaurants for their inspiring words and images!