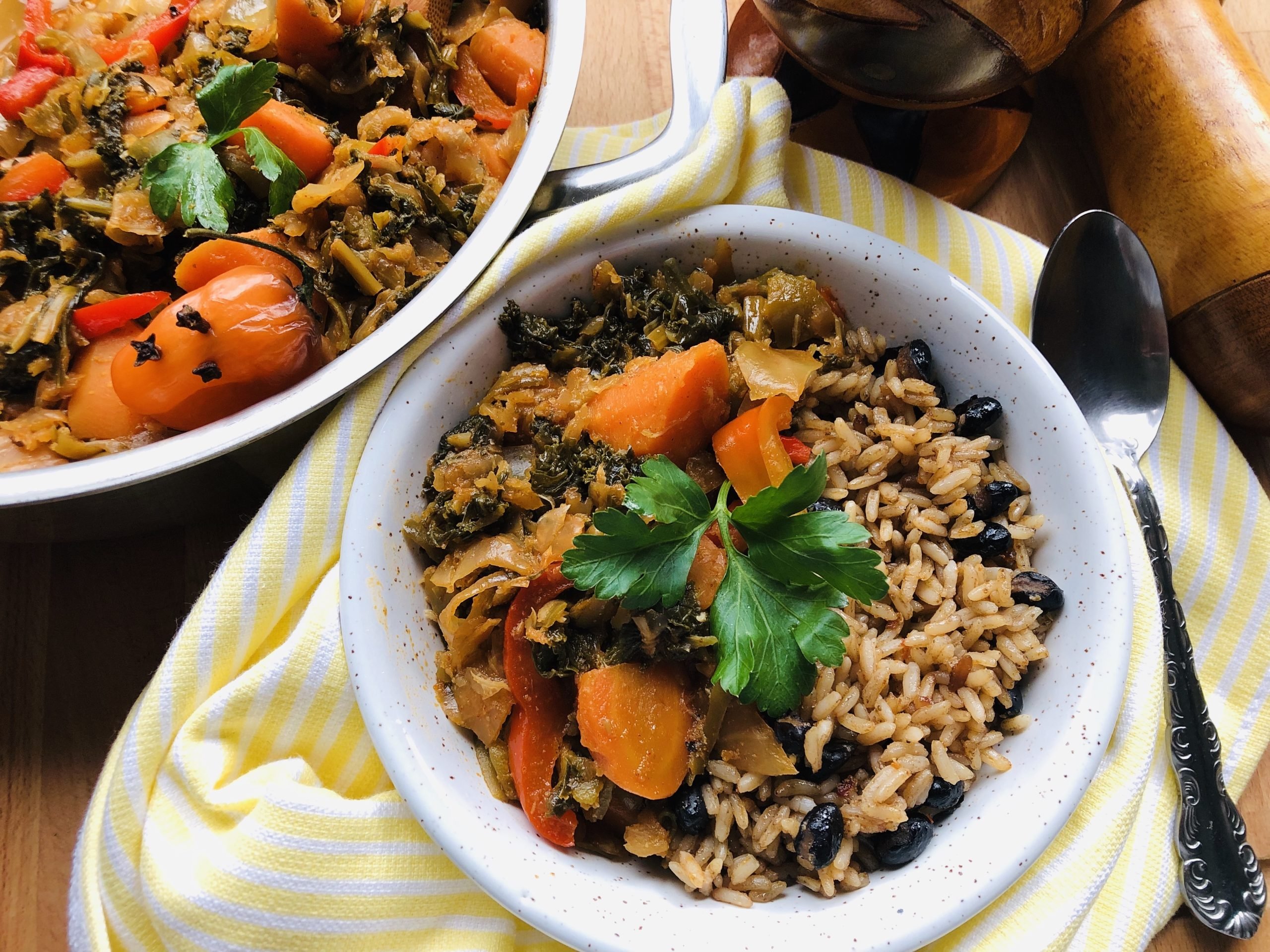 Let's Talk Haitian Food
by Blonde Beauchamp
A Taste of Haiti
Growing up in Boston, I experienced many of the day-to-day experiences that any American kid does: playing with friends, doing homework, and spending time with my family. But, as a first generation Haitian-American something that was very different for me was the food I ate. 
Early Food Memories
Every day at lunch, my peers would open up their swanky, tin lunch boxes covered in cartoons to find sandwiches and snacks. While, it looked good enough, I knew I had something special awaiting me! Stuffed inside a brown paper bag–graciously adorned with grease stains for design–I'd find the satisfying meals of Haitian rice and beans packed in some type of makeshift Tupperware. 
The memories of those lunches fill me with gratitude to this day! The only thing I wished for at the time was a cot to nap on after those big lunches. And, if I'm honest, a Mickey Mouse lunch box. Oh, how good my delicious Haitian food would have looked in one of those.
What is Haitian Food?
Haitian food is influenced by French, West African, and Latin American cuisines. It's full of flavor that comes from combining several spices and herbs. And, it prominently features and celebrates the beloved chile peppers of the land.
Central to our cuisine is diri kole (Kreyòl for rice and beans), the official national dish of Haiti. Most Haitians grow up eating this savory delight right from the start. Seeing an infant eating diri kole is like glory to every Haitian adult! 
Diri Kole is a humble dish that is flavorful and excellent on its own, or it comes together with a myriad of other dishes. It can be served on its own, or with sautéed or stewed vegetables!
Stewed vegetables, or Legim, are something tasty in Haitian cooking! Legim is made by mixing various vegetables, spices, and tomato paste together. It's cooked in a deep pan over time, which creates layers of rich flavor. And, for a spicy kick, a Scotch bonnet pepper is added! Legim's cooking method ensures it retains heat which makes it fantastic to eat on cold nights. 
Try Hatian Food For Yourself
Why not go all in and cook up a dinner of Haitian food for your next meal with family and friends. These dishes are best enjoyed in the company of people you love to laugh with.
Diri Kole
Serves 4
8 cups water

⅓ cup dry red beans (kidney, pinto, adzuki), rinsed

1 tsp salt

1 tbsp vegetable oil 

1 medium onion, finely chopped

6 sprigs fresh parsley, 3 finely chopped and 3 whole

1 tbsp

thisHAITI dry spice blend

3 garlic cloves, crushed and minced

1 cup rice

2 cups liquid from cooked beans

1 whole Scotch bonnet pepper 

5 cloves

¼  green bell pepper, cut into 4 large pieces

4 sprigs fresh thyme
Instructions
In a large pot, combine water, beans, and salt; cover pot with lid remaining loose and slightly ajar; 

Cook over medium heat for 45 minutes or until beans are tender, not soft. Check beans after 30 minutes, add water if level in pot has reduced significantly. Once cooked, reserve liquid and drain beans.

In a medium pot with a heavy bottom, add oil; sauté onions, garlic, chopped parsley, and spice over low-medium heat. Continue until onions have caramelized.

Add the beans and 2 cups of liquid from cooked beans. Bring to boil over medium-high heat.

Stir in rice. Toss in sprigs of parsley and thyme, bell pepper, and scotch bonnet pepper with cloves (press cloves into pepper to avoid having loose cloves in dish). Cook uncovered over medium-high heat until water has reduced to below the level of rice (observe small pockets of bubbling water through rice).

Cover tightly and reduce heat to a simmer. Cook for 15 minutes.

Once cooking is done, turn off heat and let sit covered for 10 – 15 minutes.

Remove and discard parsley, thyme, green pepper, and Scotch bonnet with cloves.

Serve with legim or just a dab of butter and some chopped parsley. Enjoy!
Haitian Legim 
Serves 4-6
½ pound eggplant, cut into thin rounds

½ pound cabbage, shredded

¼ pound string beans, cut in half

½ pound carrots, diced

5 oz fresh spinach

½ yellow bell pepper, chopped

4 garlic cloves (2 chopped, 2 whole)

1 medium onion, chopped

4 sprigs of thyme

½ cup chopped parsley

3 tbsp tomato paste

1 Scotch bonnet pepper 

Water

3 tsp vegetable oil

1½ tsp salt
Instructions
Place a large pan over medium-low heat, add 3 tsp vegetable oil. Add half of the chopped onions and sauté until tender. 

Reduce heat to low, add tomato paste and dry spice, plus additional oil to keep from burning out. Stir this mixture until well blended. Add 2 chopped garlic cloves and lightly sauté. Stir in thyme and parsley. Continue stirring being careful not to burn garlic. Add a teaspoon of oil if the pan starts to get dry. Monitor the bottom of the pan, continue adding small amounts of oil to prevent pan from drying out.

Bring heat to medium-low, layering vegetables in the pan in this order: eggplant, 2 whole cloves of garlic, remaining onions, cabbage, spinach, and scotch bonnet pepper. Keep the pepper whole, do not cut or puncture. 

Add 1½ cups water and raise heat to medium.

Cook vegetables until thoroughly soft (monitor and add water as needed). Once this texture is reached, about 30 minutes, remove the pepper and discard. Then mash the vegetables with a pestle or wooden spoon until mixture is well blended, but not too mushy. 

Add carrots and string beans and continue cooking for 5 min. You should still have enough liquid in the pot, but if the pan has dried out, add ¼ cup of water to steam carrots and string beans. 

Next, add bell peppers. Reduce heat and let simmer for 10 minutes or until all liquid is cooked out. Stir everything together until well mixed.

Serve with Diri Kole or boiled green plantains. Delicious!   
#ProTip: Like it spicy? Puncture the Scotch bonnet pepper with a fork and add back to pot in step 5.
Blonde Beauchamp is the founder of thisHAITI, a Boston based food company that is on a mission to share delicious, authentic, handcrafted Haitian food products using the finest natural and/or organic ingredients.