In honor of Cinco de Mayo, we've pulled together our three favorite homemade salsa recipes. They're all 100% fresh, plant-based, and range from sweet and tangy to hot and spicy. Enjoy!
---
Golden Citrus Salsa
This sweet salsa will please even your most spice-averse friends, but what it lacks in heat, it makes up for in flavor. The orange makes it deliciously tangy, while capers add extra saltiness, generating a delightful and bright medley of flavors.
Ingredients:
Fresh parsley
2 tbsp shallot
1 tbsp capers
2 tsp champagne vinegar
2 tsp olive oil
Salt and pepper
Directions:
Supreme the oranges by trimming both ends and cutting away the peel and pith (white layer under the peel and throughout the fruit).
Working over a medium bowl, cut out the flesh segments from the center pith.
Squeeze any remaining juice left in the pith into the bowl.
Mince the shallot.
Combine the supremed orange wedges, minced shallot, parsley, capers, champagne vinegar, and olive oil.
Season salsa with salt and pepper and mix well.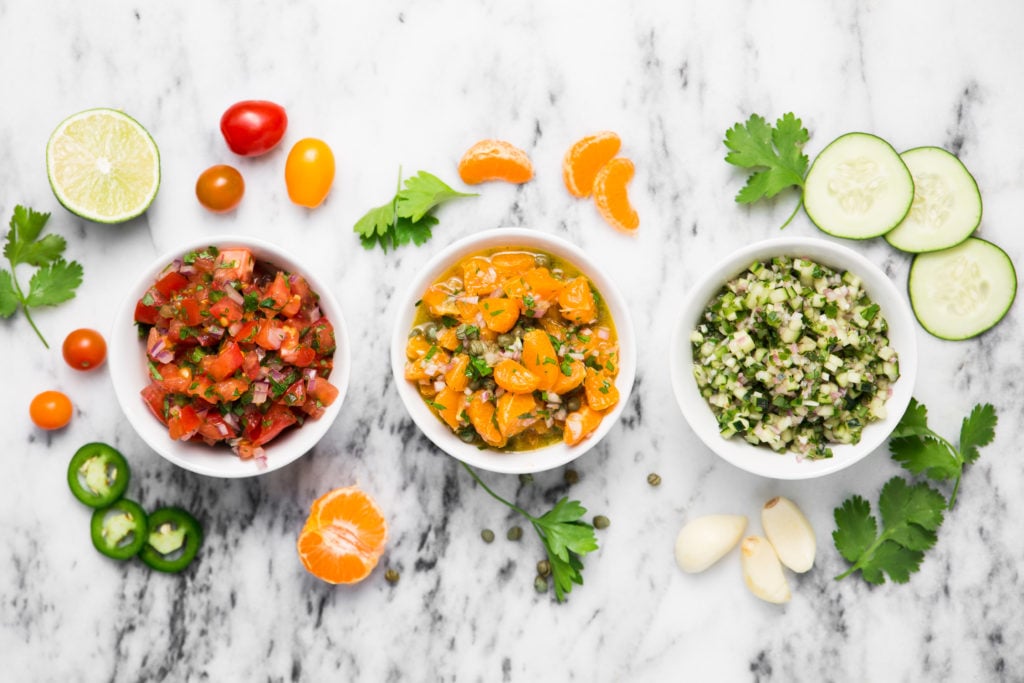 Pico de Gallo
As a fan favorite, you probably already have most of the ingredients needed to make this simple salsa. The traditional flavor is the perfect answer to your classic salsa craving.
Ingredients:
3 Roma (plum) tomatoes
1 small red onion
3 tbsp fresh cilantro
1 lime
1 jalapeño
 Salt and pepper
Directions:
Pick the cilantro leaves, discard the tough stems, and chop.
Remove the seeds from the tomatoes and chop.
Finely dice the red onion.
Remove the seeds and finely chop the jalapeño.
Combine the tomatoes, red onion, cilantro and jalapeño in a medium bowl.
Halve the lime and squeeze the juice into the salsa.
Season with salt and pepper and mix well to combine.
Cucumber Relish
This zesty cucumber relish is far from cool; the serrano chili is spicier than a jalapeño and brings the heat to this dip. The unique flavor is sure to excite anyone that loves a hot salsa.
Ingredients:
1 Persian cucumber
1 lime
Fresh cilantro
1 serrano chili
1 tbsp rice vinegar
Salt
Directions:
Pick the cilantro leaves, discard the tough stems, and finely mince.
Finely chop the cucumber.
Halve the lime.
Finely dice half of the serrano chili. Slice the other half into rounds and reserve.
In a small bowl, combine the chopped cilantro, cucumber, diced Serrano chili, juice from the lime, and rice vinegar.
Season with salt and stir to combine.
Stir in the additional serrano chili rounds to taste.