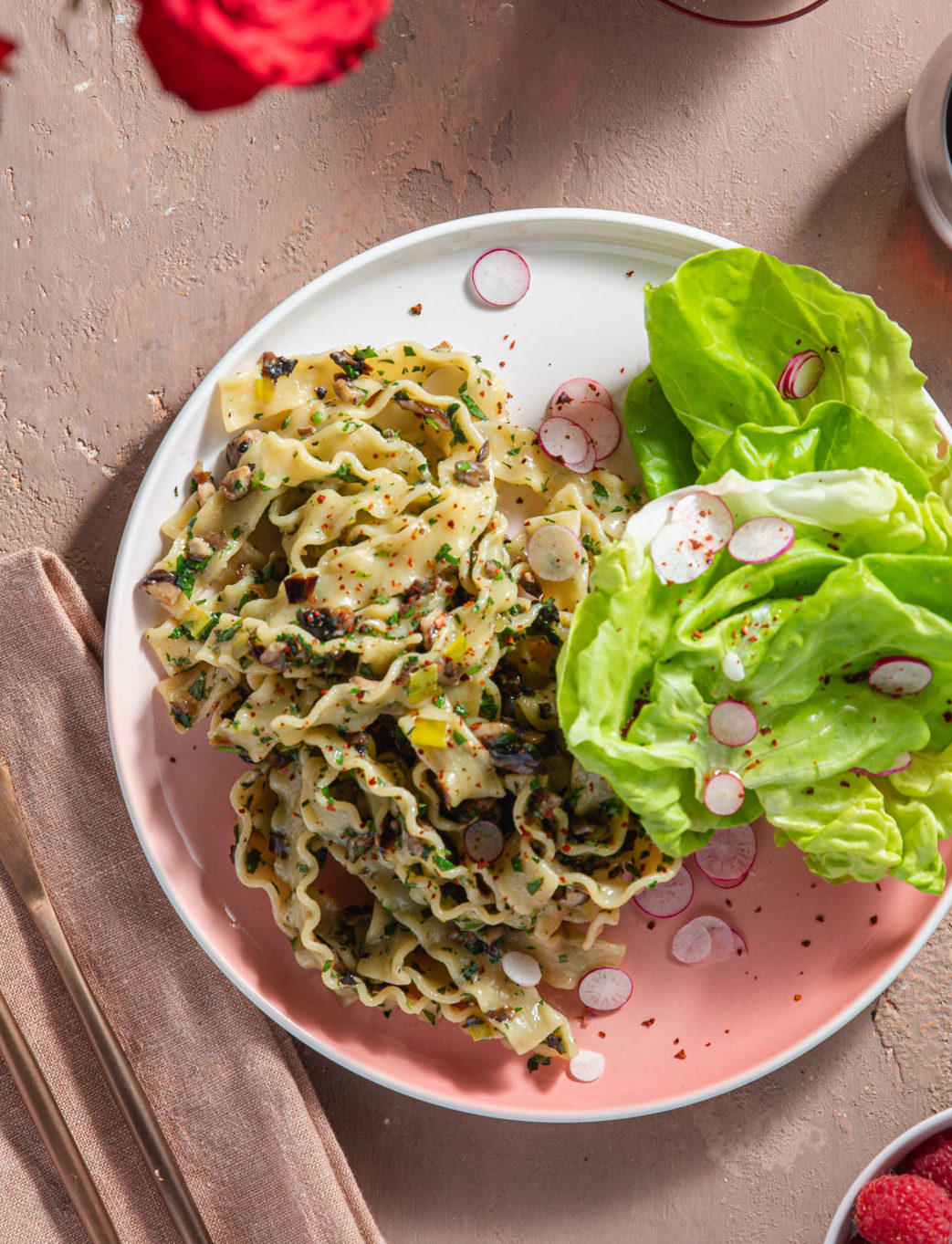 Wild Mushroom Pasta with Fresh Herbs & Lemon
Let's get cooking!
Treat someone special, or yourself with a delicious plant-based pasta dinner this Valentines Day. Happy cooking!
Wild Mushroom Pasta with Fresh Herbs & Lemon
Serves:  2
Time: 30 minutes
INGREDIENTS
2 tbsp olive oil
1 shallot, diced
2 garlic cloves, minced
16 oz wild mushrooms, cleaned and chopped 
6 oz mafaldine pasta
¼ cup vegan sour cream
½ cup parsley leaves, chopped
¼ cup chives, chopped
1 lemon, zested
Salt and pepper to taste
DIRECTIONS
Step 1
Bring a large pot of salted water to a boil for the pasta. Add olive oil, shallot and garlic and a sprinkle of salt to a medium nonstick skillet over medium heat and cook until soft and translucent, 3 to 4 minutes. Add mushrooms and cook until mushrooms are browned and fragrant, 4 to 6 minutes.
Step 2
Once the water is boiling, add pasta, stir, and cook until al dente, 8 to 10 minutes. Reserve ⅓ cup pasta water, drain the pasta, and return pasta to the large pot, off heat.
Step 3
Add sour cream and reserved pasta water to the cooked mushrooms and bring to a simmer. Add pasta, parsley, chives, lemon zest and freshly cracked black pepper and stir until the noodles are well coated. Divide between bowls. Serve with a simple salad and enjoy!